Showbiz
Public outrage over Hania Aamir's close pictures with makeup artist Adnan Ansari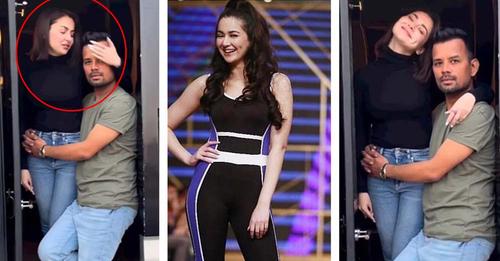 Hania Aamir is the best actress, model, and host in Pakistan. She said in a recent interview that she entered the industry to earn money and that's why she had to give up her education. But there is no doubt about it, Hania Aamir has become the top actress in Pakistan and she definitely knows how to talk to whom.
Reaching such heights of fame at the age of 26 is not an easy task, behind it Hania Aamir has worked hard day and night and proved that she is a talented actress of Pakistan and will go further in her career.
Some beautiful pictures of actress Hania Aamir with her make-up artists Adnan Ansari are going viral on social media where she can be seen touching her make-up artist's forehead and standing very close. As soon as these pictures of Hania went viral on social media, people started criticizing her.
You all must know that Hania Aamir likes to hang out with her friends and have fun with them in her free time after finishing the shoot. And she was doing something similar this time too.
If you also want to see pictures of Pakistani actress Hania Aamir with her make-up artist Adnan Ansari, then check out below.
After this photo of Hania Aamir with her makeup artist Adnan Ansari went viral, let's take a look at some of the comments people made.
Are you also watching Hania Aamir's drama serial Mujhe Pyar Hua Tha with great interest nowadays?