Showbiz
Nida Yasir's princess appearance steals the show at Ushna Shah's wedding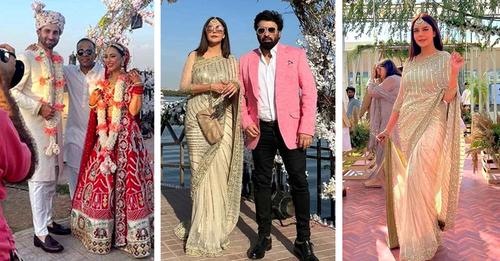 Undoubtedly, Nida Yasir is a well-known personality, who has gained immense popularity not only in Pakistan but across the globe, owing to her exceptional acting skills and hosting abilities. Her versatility knows no bounds, and she has excelled in every field she has ventured into, putting in tremendous effort and hard work.
For the past fifteen years, Nida has been hosting a live morning show on ARY Digital Channel, which has earned her immense fame and recognition. Recently, Nida and her husband have started streaming their old drama serial Nadaaniyaan on their YouTube channel in a new format, which has garnered millions of viewership and appreciation. Besides her acting and modeling career, Nida has also established a food restaurant at Boat Basin in Karachi.
Nida Yasir's fitness regime is impressive, and one wouldn't believe that she is a mother of three children. She pays attention to her health by consuming a nutritious diet and engaging in regular exercise. Even at the age of fifty, she maintains a youthful appearance, and her glowing complexion is proof of her healthy lifestyle. Despite this, some individuals have criticized Nida on social media, claiming that she has undergone several cosmetic surgeries to enhance her facial features.
However, in this article, we will focus on Nida Yasir's stunning appearance at Ushna Shah's wedding. The pictures of Nida dressed in a saree and donning black glasses have gone viral on social media, and it's evident that she looks no less than a princess. Her outfit choice and styling are spot-on, and she carries herself with elegance and grace.
If you are interested in viewing pictures of Nida Yasir attending Ushna Shah's wedding, Check out the below!
It would be accurate to say that Nida Yasir's love for Yasir Nawaz has not diminished since the early days of their marriage; in fact, it has been steadily growing over time.
Please share your thoughts with us in the comment section. Do you enjoy watching Nida Yasir's daily morning show on TV? Let us know your opinion. Thank you!