Showbiz
Mother-daughter duo Fiza Ali and daughter Faraal Khan's stunning Eid pictures go viral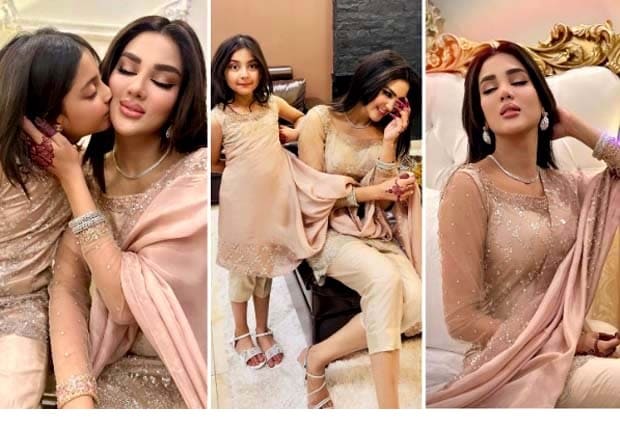 Fiza is known for her singing career. She started singing in 2011 for Aplus. She has also made her name in telefilms and short films. After her successful career, she decided to get married and then she tied the knot to Fawad Farooq. But due to some consequences, the couple parted ways. In an interview, Fiza opened up and said Fawad never treated me as his wife. We were husband and wife but never sat down and discussed anything. That is when I decided to leave him, so I did.
Fiza and Fawad have a beautiful daughter named Faraal Khan. Recently both mother and daughter duo was seen together on Eid. Both looked amazing together. Fiza had a photo shoot in her home. Whereas the singer was seen wearing a beautiful peach-colored attire by designer Amna Ajmal. So as her daughter. The mother-daughter duo wore the same designer. And were looking absolutely stunning.
Fiza and Faraal also applied Henna on their hands and Fiza was seen wearing beautiful and intricate jewelry by sharing photos with her fans she captioned "Eid Mubarak to you and your family! This Eid brings nothing but joy and peace for all. Have a safe and happy Eid day!
If you also want to see pictures of Pakistani actress Fiza Ali celebrating Eid-ul-Fitr with her daughter, then check out below!
We are stunned by the mother-daughter duo! What do you think? Comment down below. Thanks!