Showbiz
Mombatti or Cigarette: Jannat Mirza's valentine's day video sparks backlash from public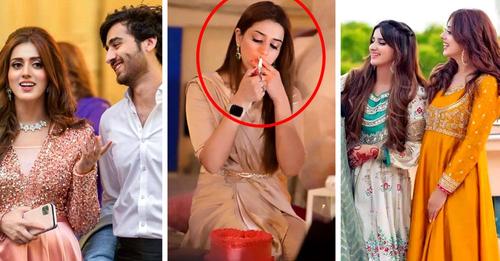 Jannat Mirza is a renowned celebrity from Pakistan who has gained immense popularity as the most followed TikTok star. Her captivating looks, tall height, striking eyes, and melodious voice have won the hearts of countless admirers. In addition to her natural talents, she possesses a keen intellect and a strong aptitude for observational learning. Following her success on TikTok, she has transitioned to become a YouTube sensation, attracting a large following on her verified Instagram account.
Jannat Mirza recently shared the heartbreaking news of her engagement with Umer Butt coming to an end. The former couple, who had been in a long-standing relationship and were frequently spotted together, parted ways due to Umer Butt's infidelity and lack of understanding toward Jannat's emotions. In a lengthy post, Jannat expressed that it is preferable to end a relationship when one's feelings are not valued and respected by their partner. Thus, she made the difficult decision to end their loving relationship.
Jannat Mirza has a commendable quality of keeping her fans updated on both her personal and professional life through her social media. On Valentine's Day, the TikTok sensation shared a video of herself cutting a cake with a sarcastic caption. In the caption of her post, Jannat wrote "Celebration after a breakup." and lits up a candle, holding it in her mouth like a cigarette. However, the excessive theatrics in her video did not resonate well with the audience, and it received negative feedback.
It is undeniable that Jannat Mirza has a significant presence on social media with her innovative content and ideas. She enjoys immense popularity amongst young audiences, and her followers eagerly anticipate her new releases.
If you are interested in viewing the video of Jannat Mirza, where she holds a candle in her mouth and burns it, click on the link provided below.
Netizens said that she is seeking attention after her breakup and trying to cash in on it. An Instagram user wrote, "Mirza is observing valentine's day soag". Another user wrote in the comment that "you should forget this person". Another netizen wrote to Jannat, "Go to Nida Yasir's show, you will enjoy it." Let's review a few comments shared by people.
If you are interested in viewing some lovely photos of Jannat Mirza commemorating Valentine's Day alone, be sure to check out the below!
Jannat Mirza, the renowned Pakistani TikTok star, inscribed a bold message on her Valentine's Day cake.
Please share your valuable feedback with us in the comments section. Do you think Jannat Mirza's video was excessively dramatic? Let us know your thoughts. Thank you!