Showbiz
Momal Sheikh Celebrating her 42 Birthday with Family Member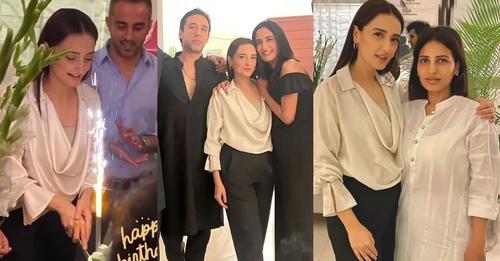 Momal Sheikh, daughter of the legendary actor Javed Sheikh, has carved a niche for herself in the entertainment industry with her exceptional acting skills and natural charm. Her work in both television dramas and films has earned her a dedicated fan following. Besides her professional achievements, Momal is also known for her happy and loving relationship with her husband, Nadir Nawaz.
On her recent birthday, Momal Sheikh's husband went all out to make the day truly memorable for his beloved wife. The celebrations started with a beautifully decorated venue, filled with elegant decorations, flowers, and heartfelt wishes. The ambiance reflected the love and admiration Nadir has for his wife, leaving no stone unturned to make her feel special.
The evening began with close friends and family members joining the couple in celebrating the joyous occasion. The gathering was intimate, creating an atmosphere of warmth and happiness. Momal Sheikh, looking radiant in a stunning attire, was greeted with love and affection by everyone present.
The highlight of the celebration was the heartfelt speech given by Nadir Nawaz, expressing his love and admiration for his wife. He spoke about their journey together, the ups and downs they have faced as a couple, and how Momal has been his constant support and inspiration. His words left Momal teary-eyed and touched the hearts of everyone in the room. It was evident that their bond was not only based on love but also on a deep friendship and understanding.
As the evening continued, the couple danced together, reveling in the joy of the moment. The birthday cake, a masterpiece in itself, was brought out, and the room filled with cheers and applause as Momal Sheikh blew out the candles, making a wish for the coming year. The happiness and love radiating from the couple were truly infectious, and everyone present shared in their joy.