Showbiz
Minal Khan Bold And Eye-catching Photoshoots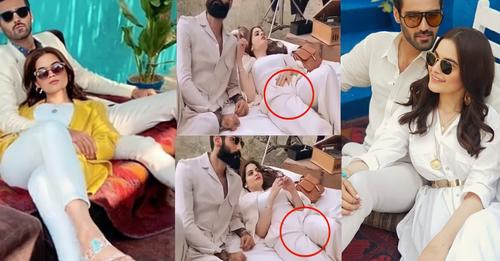 Minal Khan, the Pakistani television actress made her acting debut as a child artist in Kaash Main Teri Beti Na Hoti, and since then gained wider recognition. Now, she is one of the leading TV actresses of Pakistan with a huge fan following. Fans have always loved her for decency. However, it looks like she has disappointed her fans this time. Minal Khan's recent bold photoshoot has grabbed some hate comments and upset her fans.
Aiman Khan and Minal Khan, the most famous twin sister duo of the Pakistan media industry is not only famous for their brilliant acting skills but also for their decency and decorum. In their entire acting career, both are never seen wearing revealing clothes or doing intimate shoots with models.
In fact, both always appear in positive and innocent characters. So, fans do not expect any type of bold photoshoot or character from them. However, this time, Minal seems to have disappointed her fans by crushing their expectations.
Recently, Minal Khan shared a glimpse of her latest photoshoot with the famous Model Hasnain Lehri on her Instagram story. Later, the fan pages began sharing the behind the scenes pictures and videos of the photoshoot.
As it appears, the actor and the model did a photoshoot for a shoe brand, namely, Borjan. In some pictures, Minal and Hasnain were seen holding each other and sitting too close to each other. Usually, the twins are not seen in these kinds of photoshoots.
This is the second time that Minal is seen in this type of photoshoot. Her last shoot was also for the same brand, where the actress was criticized for sharing bold pictures of the shoot on her social media account. However, this time, the fans are having none of it, seeing the actress lying next to a male model.
Moreover, the BTS from her latest photoshoot is making rounds on the Internet and has infuriated the fans. They are fuming over the intimacy of Minal and Hasnain.
Well, it looks like Minal has become a subject of dispute for 'indecent' and 'immodest' photoshoot with Hasnain Lehri. In addition to this, people criticized her badly. However, she has not responded to criticism yet. She remains silent in the whole dispute.
Fans were extremely disappointed showed their anger in comments.