Cook Recipes
l Creamy Sweet Potato Bake THIS. is an ABSOLUTE show-stopper! Looks more co…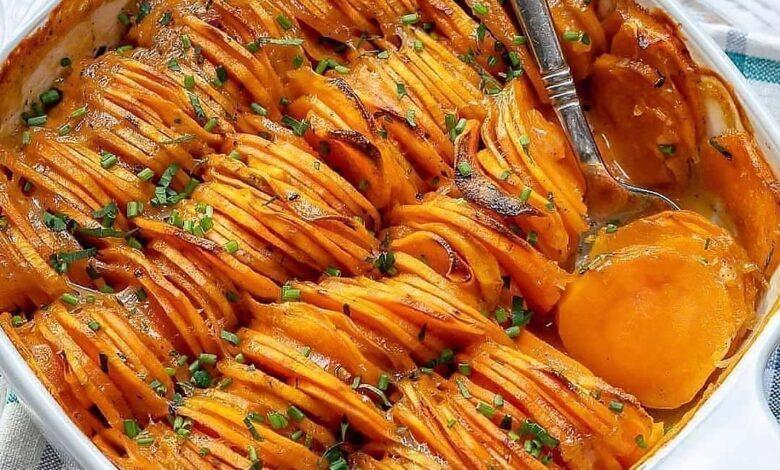 l
Creamy Sweet Potato Bake 🍠
THIS. is an ABSOLUTE show-stopper! Looks more complicated than it really is…so this will totally impress your guests! You'll just need a sharp mandoline, and all the freshest, highest quality ingredients. It's sweet without adding any sugar, and creamy without adding any dairy, and a just tiny bit savory thanks to the onions and garlic…By cleanfoodcrush
makes about 5 servings
Ingredients:
2 lbs sweet potatoes, peeled and thinly sliced using a mandoline (tip: choose potatoes that are very similar in size/shape)
1 Tbsp olive oil
1 medium yellow onion, finely chopped
3 fresh garlic cloves, minced or pressed
1 cup organic, unsweetened canned coconut milk
1 tsp smoked paprika
2 tsp gluten free flour
sea salt and fresh ground black pepper, to your taste
1 Tbsp fresh chopped parsley
1 Tbsp sliced chives as garnish
Instructions:
Preheat your oven 350 degrees f.
Heat the oil in a medium skillet, over medium-high heat. Add the onion and saute until it softens, about 3 minutes, then add garlic and saute another minute or two.
Meanwhile, in a small bowl whisk together coconut milk, paprika, and gluten free flour.
Pour the coconut mixture over the onions in the pan, then whisk to combine. Lower the heat to a simmer and cook stirring frequently, until the sauce begins to thicken, about 2-3 minutes.
Pour the coconut sauce in the bottom of a 8 x 8 oven dish, then layer the sweet potato slices on as shown.
Cover with foil and bake for 60 minutes in your preheated oven. Then, uncover the dish, bake for an and additional 12-15 minutes, until the potatoes are fork tender and golden-crispy-browned on top. Garnish with fresh chopped chives and parsley and serve.