Showbiz
Komal Rizvi's wedding pictures with her husband S. Ali Uppal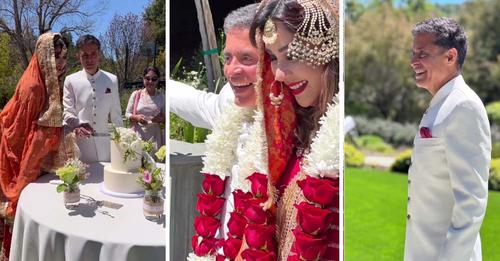 Komal Rizvi is considered one of the best pop star singers in Pakistan. She has been associated with the Pakistani singing industry for many years and has been serving her services. There is no doubt about it, this girl has worked hard day and night to reach this point and has become popular among people.
According to the Internet world, the famous singer of Pakistan Komal Rizvi turned 46 years old in the year 2023. But she pays a lot of attention to her fitness, her health, and her style, which makes her look as beautiful as a young girl even today. On the other hand, after being associated with the singing sector and earning a name, Komal has also opened her own fashion brand.
Komal Rizvi is often under fire for her pictures on social media. But a few days ago, when the pictures of Komal Rizvi with her second husband S. Ali Uppal went viral on social media, people were very surprised. Informed sources say that Komal's second husband lives in the US and has a big business and is also on the list of very rich people. And if you look at her husband's photos, her husband looks older and Komal is still young.
Many people may also be unaware that Komal Rizvi's younger brother is Hasan Rizvi and he has also been associated with the showbiz industry for a long time. On the other hand, Hasan Rizvi himself shared the pictures and videos of his sister's wedding on his social media and told people that Komal Rizvi has tied the knot and she will probably move to America with her husband very soon.
If you also want to see the romantic pictures of the famous Pakistani singer Komal Rizvi's wedding with her second husband S. Ali Uppal, then check out below!
Don't forget to tell us in the comment section below, how do you guys like Pakistani singer Komal Rizvi's second husband S. Ali Uppal in terms of personality and beauty.