Showbiz
Kiran Butt faces backlash for imitating Malaika Arora's walk in edgy outfit [Video]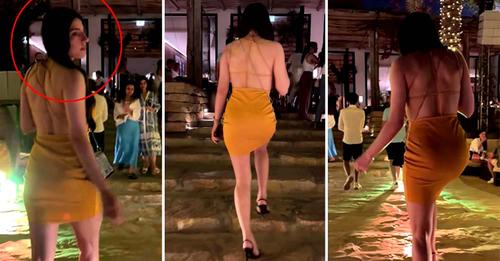 Kiran Butt, a popular TV show host, recently posted a video on her Instagram account showcasing her well-toned physique in a backless mustard-colored mini dress. She is currently enjoying her free time by indulging in dining and partying at luxurious restaurants in Dubai.
Kiran can be observed in a video shared on Instagram as she enters a luxurious restaurant while wearing a stylish mustard-colored mini dress, complemented by black heels and a charming mini bag.
If you guys want to watch the video of Kiran Butt in a backless dress, then click on the link below and watch it first.
When pictures and videos of Kiran Butt went viral on social media, some individuals began criticizing her, alleging that she was imitating the walking style of Indian actress Malaika Arora.
Kiran Butt is an up-and-coming celebrity in the entertainment industry, working as a model, actress, host, and social media influencer. Currently, she is co-hosting the Super Over Show alongside Ahmed Ali Butt on Samaa TV.
Those girls must comment who can wear such clothes easily?
Undoubtedly, Kiran Butt enjoys taking daily pictures of herself and frequently shares them with her fans on social media.
Do you guys also think that Pakistani actresses wear skimpy clothes because they feel that this way they will get fame overnight? Or this female actress belongs to another world? Don't forget to let us know your thoughts. Thanks!