Showbiz
Heated and Awkward Moments From Live Shows During PSL 8 Season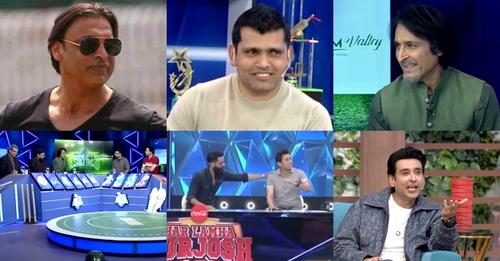 This PSL Season 8th marked as the most heated season in terms of on-screen fights or awkward moments. The most talked about fights started between the cricketers and celebrities. A few awkward yet funny moments also occured in live shows. The two shows Har Lamha Purjosh and The Fourth Umpire Show were the highlights of PSL Season because of daily live transmissions. Here we have collected many important moments for you which you might have missed.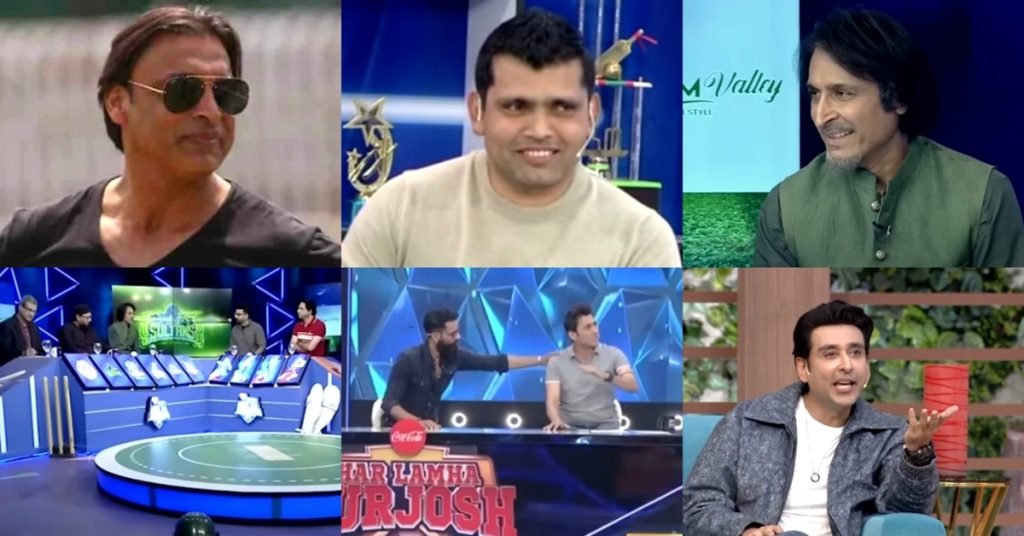 Shoaib Akhtar Vs Kamran Akmal & Ramiz Raja
In Har Lamha Purjosh's one episode, Kamran Akmal and Shoaib Akhtar's banter became talk of the town. When, Kamran Akmal took side of his cousin Babar Azam after Shoaib Akhtar criticized him. Well, Shoaib Akhtar said that Babar Azam is not a brand and in order to become like a brand he has to groom himself. Kamran Akmal said that Babar Azam is amazing player and his game is his strength. After hearing this, Shoaib Akhtar taunted Kamran Akmal on live call and mocked his English accent in his statement's context. Kamran Akmal didn't say anything in reply and kept quiet. Waseem Badami, on the other hand, replied on Kamran Akmal's behalf, saying, 'its quite common to have regional flavor in English accent, we all speak like this". Here is the link to the video:
Here is Waseem Badami's reply to Shoaib Akhtar :
Ramiz Raja also replied to Shoaib Akhtar in a harsh way. Ramiz Raja didn't like Shoaib Akhtar's statements and said that some people are delusional superstars, you have to become a human first and then you can become a brand. He said that Pakistani cricket has declined because of such negative senior players, he said, "you would never see this in India that junior players and senior players are fighting or passing derogatory comments on each other". He further said Shoaib Akhtar can't be a chairman PCB because he's not even a graduate. Here is the link to video:
Bazid Khan & Fawad Alam
Here are a few awkward moments from Bazid Khan and Fawad Alam's appearance in The Fourth Umpire Show. Well, the co-host asked negative questions related to their cricketing career. The co-host was continuously asking the uncomfortable questioned from respected guests which were ignored by Fawad Alam and Bazid Khan in a cool way, they handled the situation calmly. Fahad Mustafa also scolded the host and said, "I think you want to have a slap", Here are a few clips:
Sami Khan
Another awkward moment happened in The Fourth Umpire Show when co-host Sheikh Qasim asked uncomfortable questions to Sami Khan regarding his films which we already covered on Reviewit when the show was aired. In those questions Sheikh Qasim only asked the questions which were suggesting that Sami Khan's film career is not that bright, however, Sami Khan calmly refuted it and handled the situation in a friendly manner. Here is the link to the video:
Sunita Marshall's Awkward Moment
A funny moment and awkward occurred in The Fourth Umpire Show when the host asked a hilarious question to Sunita Marshall, the host asked, "What did the cat say to a rat after which he ran away?, Sunita Marshall replied, "the cat said, 'I'm going to be the mother of your child", after this reply Fahad Mustafa, co-host and Hassan Ahmed got shocked. Fahad Mustafa said the show is going live be careful. Have a look at the video link:
Sahir Lodhi
In Fourth Umpire Show, Sheikh Qasim asked, "I saw your film Rasta, I heard from people, you would get a right way after this movie, but you came into this show?", Replying to this question, Sahir Lodhi talked in a calm way about his film Raasta". Here is the link:
Another hilarious moment happened in In Sahir Lodhi's interview in The Fourth Umpire Show, the co host Qasim Sheikh said, "I have heard you saying, 'Katrina Kaif is my very good friend', is that true?". Sahir Lodhi stood up and went near to co-host and said, "I am not the one about whom you are asking this question?, He beat him in a very funny manner as well and said those people don't take your name. The co-host asked question about Shahrukh Khan from Sahir Lodhi.
Mohib Mirza & Younis Khan Heated Moment
The last most heated moment happened in Har Lamha Purjosh when Mohib Mirza talked about the losing team that it has bad bowling attack due to which the team lost the game, he also put his hand on Younis Khan's shoulder which Younis didn't like. Mohib Mirza then apologized a lot but they ended up closing the show due to limited time as a famous political figure's speech had to air on the ARY News. Here is the link to the video:
Mohib Mirza replied to fan about his interaction with Younis Khan. To the question, "what is your scene with Younis Khan?", Mohib Mirza wrote, "I have a very tight scene with him"