Showbiz
In pics: A glimpse of actress Hania Aamir's spellbinding performance at Umer Mukhtar's wedding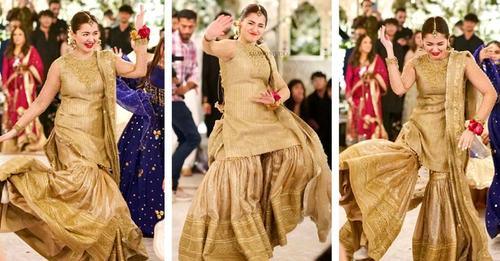 Hania Aamir, a prominent figure in the Pakistani showbiz industry, has been making waves on social media due to her exceptional beauty and acting skills. Her versatile performances have garnered her widespread acclaim and admiration.
At the age of 26, Hania Aamir enjoys spending time with her close friends and unwinding during holidays and social gatherings. However, her carefree lifestyle has drawn some criticism on social media. Nevertheless, she chooses to live life on her own terms and is unbothered by the opinions of others. Despite her popularity and success, Hania Aamir remains single and hopes to find a suitable partner to be her future husband.
Hania Aamir continues to be a topic of discussion on various social media platforms, where her latest drama serial "Mujhe Pyar Hua Tha" on ARY Digital is gaining popularity among viewers. Besides her acting and modeling endeavors, she actively engages with her fans through daily videos uploaded on her YouTube channel, showcasing her sense of humor which is widely appreciated.
Recently, a video of Hania Aamir dancing energetically at the wedding of Hum TV producer Umar Mukhtar became viral on social media. Her captivating performance garnered significant attention not only in Pakistan but also in neighboring India, with considerable viewership and media coverage.
If you're interested in seeing Hania Aamir's captivating dance photos, check out the below!
Based on Hania Aamir's talent, it appears that she may exceed the achievements of Pakistan's leading actresses Mahira Khan and Ayeza Khan in the future.
Additionally, for those who have yet to witness her dance, be sure to watch the video and witness the energy and passion she brings to the dance floor.
Are you a fan of Hania Aamir? Do you follow her on social media and eagerly await her latest TV dramas? Share your thoughts and feedback with us in the comments below. Thank you!