Showbiz
I suddenly got cancer, no one was with me, but my sister … Mahima Chaudhry wept as she told the painful story of Mahima Chaudhary life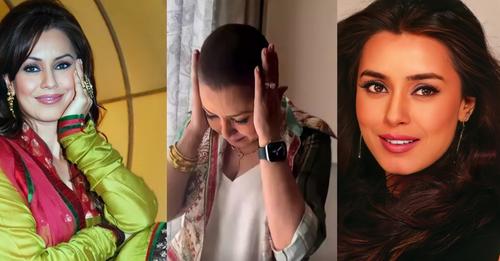 Famous Indian actress Mahima Chaudhary who was brought to the heights of fame by a foreign film released in 1997. This was her first film in which she played the role of a village girl and appeared as a heroine with Shah Rukh Khan. One of the most popular movies of its time. Even today, the number of people watching and liking this movie has not decreased.
Mahima Chaudhry emerged as a good-natured actress. He never spoke ill of anyone. No scandal ever happened to them and in one or two cases, if there was any bitter rhetoric, they saw the way of reconciliation. A video of Mahima is going viral on social media. In which she cried while telling about the most difficult moments of her life.
Mahima is suffering from a disease like breast cancer. Due to which her hair has also been lost, she has become weaker now. Fighting a dangerous disease, their steps also faltered, they remained in fear. Describing this experience, Mahima says:
"I'm scared of the word cancer. I didn't even tell my parents I had cancer. I got courage when I saw a small child. He said that I play for 3 days and come here for 3 days for chemotherapy. Listening to him, I was encouraged that such a small child is so brave, he plays, laughs and I am crying when I grow up. I lost my hair, I lost my beauty. "
In the video, Anupam Kher asks him a question and asks him to tell the story of what happened to him. When Mahima told me that I have cancer and I have fought cancer, Anupam asked how it happened.
When I went for my usual medical check-up, the doctors asked me to see a specialist cancer specialist, who took a biopsy of some cells from my breast. They were not diagnosed with cancer. But some lumps were found near the breast and suddenly the cancer was diagnosed, but since they were pre-cancer cells it could have been cured immediately, I was crying, my sister used to explain to me that it is a treatable disease, don't worry ۔ "
The actress also said that when I was undergoing treatment for cancer in the United States, Anupam Kher called me and offered to work in the film, but when I told Anupam that I had cancer, she was surprised. gone. But now I have recovered and will soon be working with Anupam in the movie The Signature. But it is not clear if this video is old or new. When did Mahima get cancer and when not? At the moment, the actress has not said anything about all these questions.
Mahima also said: "No one was with me in this difficult time. I never thought of telling my parents. Only my sister was with me at that time, who encouraged me." But I was scared and kept crying. Disease kills any human being but if your heart and mind support you then the difficulties in life become easier. "