Showbiz
Ayeza Khan's white attire is giving off major 'Fairy Vibes'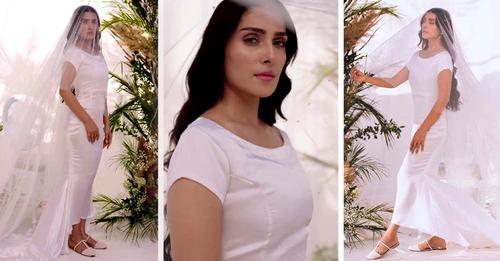 Ayeza Khan is undoubtedly one of the most popular actresses in Pakistan who has gained immense recognition in the entertainment industry. Her collaborations with numerous directors and producers have made her a household name, and she is often sought after for brand endorsements and photo shoots.
It is safe to say that Ayeza Khan has established herself as a prominent figure in the Pakistani media industry, and her association with various brands has proven to be beneficial for both parties. Her appearances in brand photo shoots and TV dramas generate buzz and anticipation even before their release.
Interestingly, Ayeza Khan has been featured in numerous bridal photo shoots, exceeding a count of 50. What's more surprising is that her presence in brand photo shoots is a regular occurrence on social media, with new posts surfacing every week.
Ayeza Khan is a remarkable actress who has managed to maintain her youthful appearance despite being a mother of two. Her secret to staying in shape is a combination of regular exercise and a healthy diet, which helps her maintain her energy levels. Additionally, Ayeza Khan prefers to focus on her own work rather than getting involved in other people's issues, which allows her to live life on her own terms.
Recently, Ayeza Khan made headlines on social media for her collaboration with Tjk designs, a shoe brand. Together with her stylist Khan Arhum, she launched a new shoe collection all the way from Milan. Ayeza Khan shared the first look of her collection in a simple white bodycon dress, exuding angelic vibes that captivated her fans. Despite the simplicity of her outfit, Ayeza Khan looks stunning as always and continues to dazzle her fans with her ultimate charm.
For those interested in seeing Ayeza Khan in her gorgeous white fairytale dress, check out the photos below.
Do you guys also think after seeing these latest pictures of Ayeza Khan that she has become a little fatter?
We would love to hear your opinions on whether you believe Ayeza Khan always delivers her best performance in brand photo shoots and TV dramas. Please share your thoughts with us. Thank you!