Showbiz
Hasad drama actress Arij Fatyma blessed with baby boy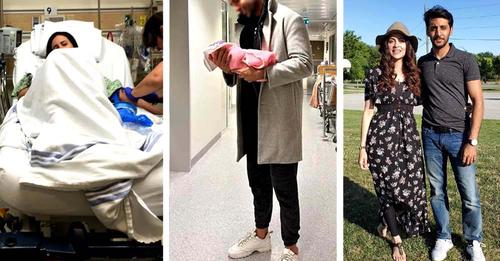 When the era of social media was not common than many Pakistani girls used to enter the TV industry to build their careers and fame. And at that time this field was looked down upon and people of good families prevented their daughters from entering this field. As time has changed, people's thoughts have changed, and now people want their sons or daughter to be associated with the media industry.
In today's article, we are talking about Pakistan's senior actress Arij Fatyma, who turned 33 years old in the year 2023. Arij started her acting career in 2012 with the Geo TV drama serial Kis Din Mera Viyah Howay Ga 2. In the very first drama, people liked her pretty face and her natural acting so much that she started getting offers to act in TV dramas one after another, and thus her career was officially launched.
Not many people know that Pakistani actress Arij Fatyma got married to Faraz Khan in 2014 but her first marriage did not last long and ended in divorce. After that Alij Fatima got married secondly to Ozair Ali. Arij's husband is not from showbiz and he is a professional doctor by profession. Due to her husband and in-laws living outside the country, Arij Fayma has also permanently shifted to Canada.
The happy news is that Arij Fatyma and her husband Ozair Ali have once again become the father of a second son. Her first son is named Issa Ali and while they have named their second son Yahya Ali. The news of the birth of the second child was announced by the actress herself on her Instagram and she wrote Alhamdulillah in the caption of her post.
If you also want to see the pictures of Arij Fatyma and her husband and her first son, then check out the below!
Don't forget to congratulate famous Pakistani actress Arij Fatyma and her husband Ozair Ali on the arrival of their second son in the comment section below. Thanks!