Showbiz
Hareem Farooq Dancing on her Friend Wedding Some Random Clicks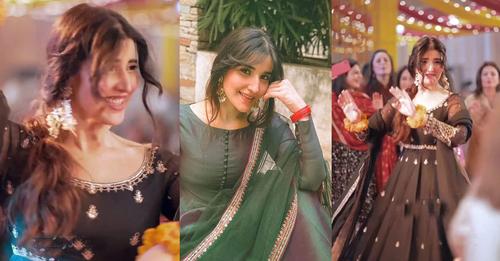 Hareem Farooq is one of the most talented and versatile actresses in the Pakistani entertainment industry. Known for her exceptional acting skills, Hareem recently proved that she is equally talented on the dance floor. The actress was spotted dancing at her friend's wedding, and some random clicks of her performance have been making rounds on social media.
In the pictures, Hareem can be seen dressed in a beautiful traditional outfit, grooving to the beats of the music. Her infectious energy and graceful moves stole the show and left everyone mesmerized. Hareem was clearly having a great time, and her happiness was evident in every step she took.
Hareem's love for dancing is no secret. The actress has previously shared videos of herself dancing on social media, and her fans have always appreciated her talent. Hareem's dance performance at her friend's wedding was no different. Fans couldn't stop gushing over her moves, and many took to social media to express their admiration for the actress.
Apart from her talent, Hareem is also known for her down-to-earth personality and her ability to connect with her fans. Despite being one of the biggest stars in the industry, Hareem remains humble and approachable. Her random dance performance at her friend's wedding is a testament to her fun-loving nature and her willingness to let loose and have a good time.
Hareem Farooq is a true inspiration to her fans, both on and off-screen. Her dedication, talent, and infectious personality have made her one of the most beloved actresses in the industry. We can't wait to see more of her random dance performances and continue to support her in all her future endeavors.