Showbiz
Hanish Qureshi introduces her step-sister: Drops enthralling clicks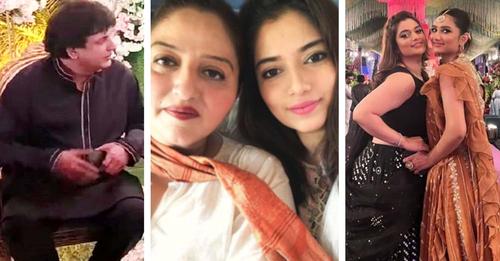 Hanish Qureshi's dance video recently made rounds on social media where she was seen grooving on beats at her friend's wedding. Now more pictures are coming out from this event. Hanish Qureshi is introducing her beautiful sister Hijab Khalil and we are in love with her captions. This is certainly such an outstanding thing on the internet. Hanish is looking so pretty in this beautiful black lehenga with a short black blouse.
Hanish took to her Instagram handle and shared some amazing pictures of her sister. She wrote my sister is better than yours. She went in tagging this beauty on her Instagram. Hijab and Sohrab are her step-siblings from her mother's second marriage. Following her mother's divorce from Faysal Qureshi she married Khalil Ur Rehman Qamar.
During all that fuss about the Aurat march and feminism, people started tagging Hanish Qureshi in different posts and memes. Getting done with this situation, Hanish took to her social media platforms and addressed those people to stop tagging her. She went on to add that this thing is literally having a bad impact on her younger siblings and their mental health was quite important to her. She backlashed at those memers and tried hard to stop bullying her siblings.
This time she's there with all these beautiful images. She's thanking her mom for this genetic beauty. Its true beauty runs in their genes.
Here are captivating and enchanting pictures of these stunning sisters. Have a look.
So guys what are your thoughts about these clicks? Do share your thoughts here in the comments section below. Thanks!