Showbiz
Hania Aamir celebrates her birthday week in Bangkok with style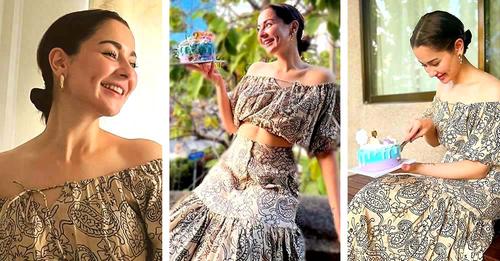 Hania Aamir, a renowned Pakistani actress, has made a remarkable name for herself in the entertainment industry. Starting as a model and actor, she has ventured into various fields and achieved great success. Her vivacious personality is infectious, and her humor is top-notch, bringing joy to everyone around her. Hania is a unique gem in the Pakistani showbiz industry, distinguished by her charming dimples that surface when she laughs.
Hania Aamir, born on February 12, 1997, in Rawalpindi, Pakistan, recently marked her 26th birthday with a grand celebration surrounded by her loved ones. As of 2023, she is 26 years old, and according to her latest interview, she is currently neither married nor in a relationship with anyone. It seems that she is focused on her career in the showbiz industry and intends to devote more of her time to it instead of considering marriage at the moment.
Hania Aamir is presently starring opposite actor Wahaj Ali in ARY Digital's drama serial "Mujhe Pyaar Hua Tha," and her character Maheer's innocent portrayal has won hearts among the viewers. The drama has become a record-breaker in ratings in 2023, and every new episode uploaded on YouTube receives over 10 million views. Moreover, the play has garnered significant popularity in India, apart from its success in Pakistan.
In this article, we'll be discussing how Hania Aamir has shared photos and videos of her 26th birthday celebration on social media. The viral pictures show her in Bangkok, holding a small cake while dressed in Western attire. Although her birthday falls on February 12th, Hania celebrates her birthday week with great enthusiasm and zeal, as can be seen in the photos.
If you would like to see photos of Hania Aamir's 26th birthday celebrations in Bangkok, take a look below!
Fans of Hania Aamir are encouraged to leave their birthday wishes for the actress in the comment section below. Don't forget to show your love and support! Thank you.