Cook Recipes
Get Our new 100+ vegan recipes click the bio link . What is your favorite way …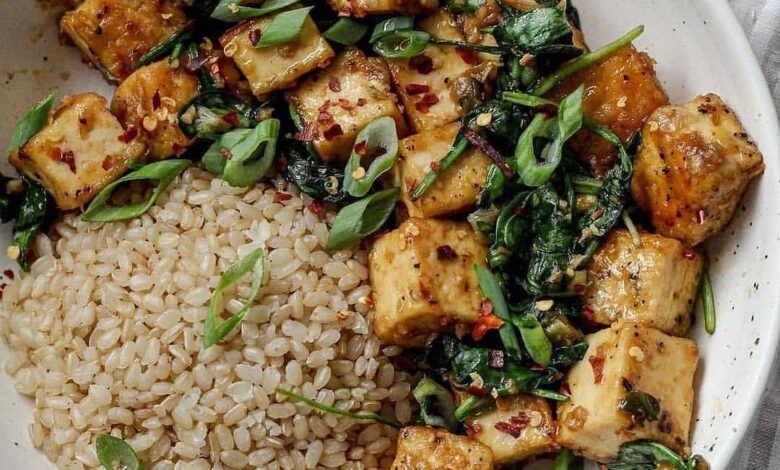 🥑🍅 Get Our new 100+ vegan recipes
plant_basedrecipe 👈click the bio link
.
What is your favorite way to prepare tofu? 🌱 Honestly, this plate of Garlic "Honey" Tofu is a straight winner. Garlicky, sweet and takes only 20 minutes to make. Needed something like this today. So yummy!
by plantbasedrd
Garlic "Honey" Tofu
1 block (450 g) of extra firm tofu or superfirm tofu
1 tbsp cornstarch
1 tbsp nutritional yeast
1/2 tsp lemon pepper
Pinch of salt
2 tsp oil or cooking spray
1 1/2 tbsp soy sauce (make gluten free by using coconut aminos)
1 tbsp agave syrup or your favorite liquid sweetener
1 tbsp mirin
1 tsp garlic chili paste (optional)
1 tbsp apple juice (or 1/4 wedge of lemon juice)
6 cloves garlic, crushed or minced
1/2 inch ginger, minced
2 scallions, sliced
2 handfuls of spinach
If using superfirm tofu, just remove from packaging and cut into even cubes. If using extra firm tofu, drain tofu and gently press excess water out of the tofu using a tofu press or by applying equal pressure on each side of the tofu and gently pressing excess water out. Cut tofu into equal sized cubes. To a freezer bag, add tofu cubes, cornstarch, nutritional yeast, lemon pepper, and salt. Seal bag and gently shake to coat with mixture. Bring a pan with oil to medium heat then add in tofu and allow to cook evenly on one side for 4-5 minutes, then flip and cook for an additional few minutes until golden. As tofu is cooking, prepare sauce by adding soy sauce, syrup, mirin, chili paste, juice, garlic, ginger and scallions. Remove tofu from pan and slightly lower heat. Add in sauce and stir and cook for 30 seconds then add back in tofu and 2 handfuls of spinach. Stir well to allow spinach to wilt and tofu to coat itself with the sauce. Serve with extra scallions on top along with some rice. This makes 4 servings.