Showbiz
Bollywood diva Urvashi Rautela sends birthday love to Pakistani cricketer Naseem Shah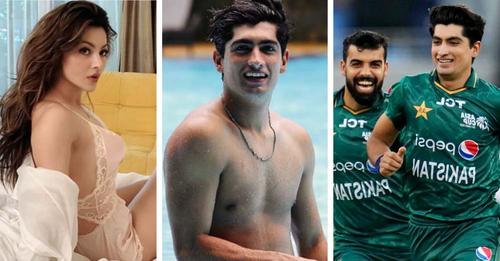 Naseem Shah is a highly skilled fast bowler who has made significant contributions to the Pakistani International Cricket Team. Not only is he a talented athlete, but he also has a pleasing appearance. His exceptional bowling and batting abilities have helped him establish himself as a crucial member of the national cricket team, and he has played a pivotal role in securing several significant international victories for Pakistan. In recognition of his success and reputation, Shah has been selected to be the brand ambassador for the renowned company Gillette, which speaks to his credibility and influence both on and off the cricket field.
During the previous T20 World Cup, there was media buzz around a fan edit video posted by Bollywood actress Urvashi Rautela featuring herself and Naseem Shah. When a journalist inquired about the video, Shah claimed to be unaware of who Rautela was. However, he has since responded to a comment made by Rautela on one of his social media posts. It seems that Rautela remains enamored with Shah's abilities and charisma, despite his earlier lack of recognition of her.
The Bollywood diva left a comment on a photograph featuring Pakistani cricketers Shadab Khan and Naseem Shah, extending birthday wishes and offering congratulations to Shah for being conferred with the honorary rank of DSP by Balochistan Police. In response to the Indian actress's well-wishes, Shah expressed his gratitude. We have included a screenshot of Shah's official social media post featuring the aforementioned photo with Shadab. Please have a look:
After Urvashi Rautela left a comment on Naseem Shah's social media post, some of his fans took notice and began commenting on the post as well. Many of them expressed concerns about the possibility of a "honey trap" and urged Shah to take measures to protect himself. Some even criticized Shah for responding to the Indian actress in the first place.
Following the widespread attention garnered by Shah and Rautela's comments on social media, numerous individuals posted comments on the post. Here are a few screenshots of some of the comments made by people.
Do you guys also think that there is a love affair between Pakistani cricketer Naseem Shah and Bollywood actress Urvashi Rautela or is it all happening like this? What would you guys like to comment on this? So please let us know your opinion. Thanks!