Showbiz
Ayesha Mano Viral Dance Girl Celebrating Holly Festival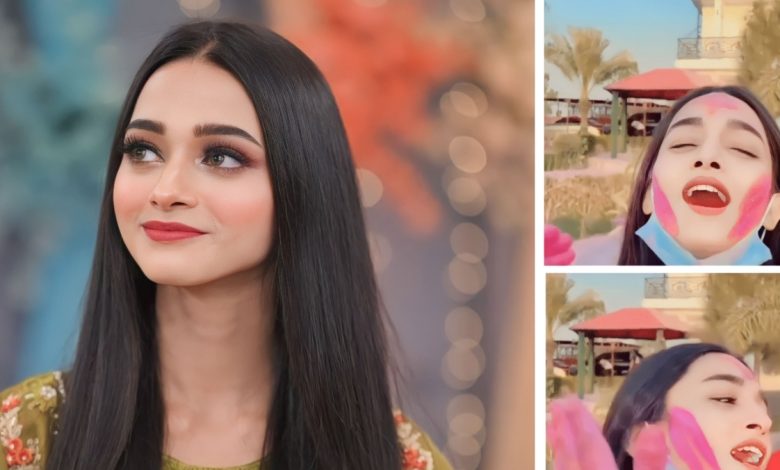 All of you must know that many boys and girls are becoming social media celebrities overnight with the help of the digital age. And one thing is very unfortunate to say that instead of increasing the trend of education in Pakistan, the trend of becoming a social media star is increasing rapidly.
In today's article, we are talking about Pakistan's famous Tik Tok star Ayesha Mano. Ayesha who became an overnight celebrity all over the world, including in Pakistan, for dancing at her friend's wedding. Little did this girl know that her dance steps would become so popular around the world that people would try to copy her dance again and again.
After Ayesha Mano went viral, she was first called by Nida Yasir on her morning show. Nida asked the girl about her personal and professional life. Ayesha said that she was associated with this industry even before it went viral, but at that time not many people knew about it. But Ayesha admitted in her interview that she found out two days after her video that she had gone viral on social media.
Ayesha Mano's cheerful holi celebrations in Lahore set social media abuzz
But in today's article, we will see the video and pictures of TikTok Star Ayesha Mano doing the Holi Festival in Lahore going viral on social media. In the viral photos, it can be seen that the Tiktok star has applied colorful colors to her cheeks. As soon as this picture and video of Ayesha went viral on social media, people started asking for forgiveness.
If you also want to see the video and photos of Pakistan's famous TikTok star Ayesha Mano celebrating the Holi festival, then check out below!
Do you people also feel that under some conspiracy western culture is being promoted and funded in Pakistan? Don't forget to let us know your thoughts. Thanks!