Showbiz
Syed Jibran Lovely Pictures With Young Looking Wife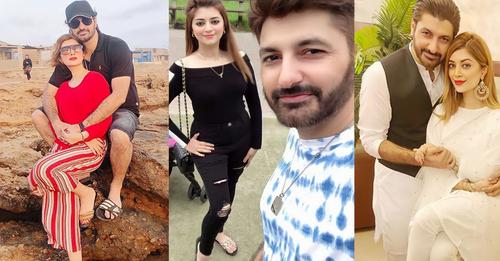 Syed Jibran was born on October 14, 1979 in Jhelum. He is a beautiful and talented actor. That is why in a very short period of time, he gained popularity in the showbiz industry.
Syed Jibran is famous Fashion / Television Actor. He has a huge fan following, and his fans want to remain updated about the latest happening in life of Syed Jibran. You can read latest Syed Jibran news, articles and photos on this section. Also read about Syed Jibran scandals, gossip, film reviews and upcoming films of Syed Jibran.
10 years have passed since the marriage of actress Syed Jibran. He celebrated the 9th wedding anniversary of his wife Afifa Gibran and shared the photos taken on the occasion on social media.
Syed Jibran entered the acting arena in 2001 with the Pakistani television drama serial "Hook" and so far he has shown the essence of acting in several dramas. Syed Gibran these days drama serials "Dilrba" and "Tarp"
Syed Jibran's humorous comment on Imran Abbas' marriage rumors
Well known actor of showbiz industry Syed Jibran gave a humorous response to the rumors of Imran Abbas' marriage on YouTube.
Commenting on Imran Abbas's post, Syed Jibran said, "Aliza, Saboor, Ushna and Urwah have become four. I think your Shariah quota has been fulfilled."
It should be noted that actor Imran Abbas was angry with the people who got married for the fourth time to try new ways of rating and showing videos by YouTubers. Imran Abbas said, I have no other job, he has gotten married for the fourth time since January 2021.
He had asked the fans to subscribe to all such YouTube channels, stop following bloggers and social media pages so that these people can also have fun. Actress Ushna Shah has also responded to this post of the actor but Social media users say that Syed Gibran robbed the fair with his comment.