Showbiz
Zubab Rana's mesmerizing pictures from Iraq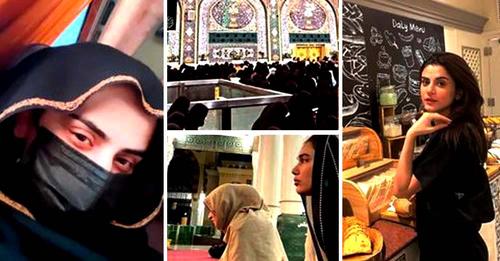 Zubab Rana, a talented & gorgeous actress from Pakistan, has gained immense popularity in a short span of time for her role as Aleena in the TV series Mere Khudaya. Her beauty is captivating and has the ability to attract fans immediately. It is no wonder that she has quickly risen to fame in the showbiz industry.
Zubab Rana has chosen to focus on her career instead of getting married and is yet to tie the knot. She appears to be striving for greater recognition in her professional life before embarking on the journey of finding a compatible life partner.
Zubab Rana, the renowned actress, is currently visiting Iraq and has been engaged in religious tourism. She has been visiting different holy sites & performing acts of worship at the shrine of Hazrat Imam Hussain AS. Zubab spent the night of Laila-Tul-Qadr in the shrine, offering her prayers & devotion.
Zubab Rana, the actress on her religious journey, has shared glimpses of Iraq's streets & shops on her Instagram account. In reverence, she was seen clad in black attire during her spiritual visit.
Here are some stories and pictures compiled from Zubab's Instagram account for you please check out below!
Have you guys also gone to Iraq and visited the holy places? Don't forget to send us your thoughts. Thanks!