Showbiz
Zarnish Changed herself after doing Umrah Some New Pictures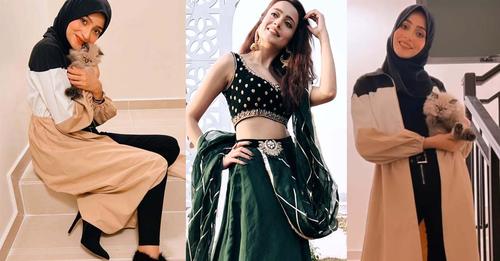 Zarnish Khan, a talented actress, has garnered much attention after sharing some beautiful pictures dressed in modest attire and wearing a headscarf. Her new look has won the hearts of audiences, and many are appreciating her style and grace. Following her recent pilgrimage to perform Umrah, she took a break from the entertainment industry, deleted her old pictures, and focused on her spiritual well-being.
Zarnish Khan's recent social media posts have generated significant interest, and many of her fans and followers are commending her for the message she is trying to convey. At 30 years of age, this celebrity's recent actions have propelled her into the limelight, and people are keenly watching her journey of self-discovery and spiritual growth.
Umrah, the lesser pilgrimage to Mecca, is a significant event in the life of a Muslim. For many, it's an opportunity to purify the soul and seek Allah's blessings. Zarnish, a young Muslim woman, had always been intrigued by the concept of Umrah, and she decided to embark on the journey of a lifetime. Little did she know that the experience would change her life forever.
Zarnish had always been an outgoing and vivacious person. She enjoyed spending time with her friends and family, going out, and living life to the fullest. However, deep down, she always felt like something was missing in her life. She felt unfulfilled and incomplete, and no matter how hard she tried, she couldn't shake off this feeling.
After months of contemplation, Zarnish decided to perform Umrah. She knew that it was a once-in-a-lifetime opportunity, and she didn't want to miss it. She wanted to seek Allah's blessings and guidance, and most importantly, she wanted to find herself.