Showbiz
YouTuber Maaz Safdar's Romantic Clicks with His Young and Lovely Wife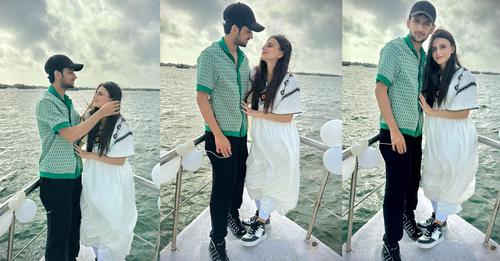 YouTube has become a platform where creators showcase their talents, share their experiences, and build a community of followers. One such popular YouTuber, Maaz Safdar, has not only captivated audiences with his engaging content but has also allowed them a glimpse into his personal life.
Maaz Safdar's journey on YouTube has been nothing short of remarkable. With his entertaining and informative videos, he has amassed a significant following on his channel. Known for his charisma and engaging personality.
Maaz Safdar has built a strong connection with his viewers, who eagerly await his uploads. However, beyond the camera, Maaz Safdar has a loving and supportive partner who stands beside him every step of the way.
In the midst of his rising popularity, Maaz Safdar found love in the arms of his young and lovely wife. Their love story is one filled with shared dreams, laughter, and unwavering support. Together, they have embarked on a journey of companionship.
where they celebrate each other's successes and navigate the challenges of life as a team. The bond they share is evident in the romantic clicks that capture their love and affection.