Showbiz
Valentine's Day: Aiman Khan to Sadaf Kanwal, Pakistani Celebs shared Valentines wishes for their loved ones. Check Kanwal Aftab, Mariyam Nafees, Ghana Ali and others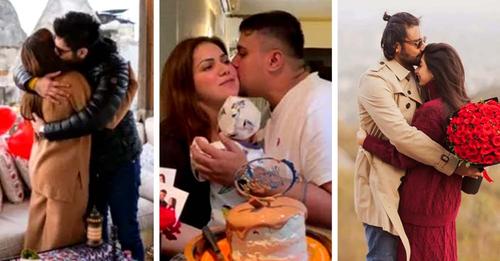 February 14th marks the annual celebration of Valentine's Day, a renowned occasion observed globally to honor love. This special day pays tribute to Saint Valentine, a martyr and pioneer of love, and is also referred to as Saint Valentine's Day. Originally originating in the western world, Valentine's Day has gained significant popularity in many countries, including Pakistan. The day serves as a celebration of love and affection.
How famous Pakistani celebrities celebrated Valentine's Day on February 14, 2023, with their husband or wife, so we have taken some pictures from their Instagram, which we are sharing with you below.
Aiman Khan
Aiman Khan, an actress, shared a photo with her spouse against a red background and looked very happy. She also posted a story on her Instagram, which included flowers, cake, balloons, and teddy bears, to mark the occasion.
Arsalan Faisal
Arsalan Faisal, the son of senior Pakistani actress Saba Faisal, posted a picture with his fiancée on Valentine's Day, and captioned it "Happy Valentine's Day beautiful Nisha Talat." The couple recently got engaged and are reportedly planning to get married by the end of 2023.
Kanwal Aftab
Kanwal Aftab, a well-known Pakistani TikTok personality, held her daughter in her arms on February 14th and shared an Instagram story with the caption "Here is my Valentine."
Sadaf Kanwal
Actress Sadaf Kanwal expressed her surprise on Valentine's Day and shared pictures of herself wearing a red dress, heavy make-up, and holding red roses. In her Instagram caption, she mentioned that her perspective changed after her husband, Shahroz, arrived with a red box, red outfit, and red roses. She expressed her love for him.
Mariyam Nafees
Mariyam Nafees, a rising star in Pakistani TV dramas, shared a photo of herself and her husband Amaan Ahmed, in which she is wearing a red frock. The caption reads "Me and my husband," and the couple appears to be enjoying a vacation in a foreign country.
Ghana Ali
Ghana Ali, a Pakistani actress who recently became a mother to a son, posted a photo with her husband Umair Gulzar standing in front of a mirror on Valentine's Day. The caption read "Happy Valentine's Day, my love."
Hasan Ali
Renowned Pakistani fast bowler of the cricket team, Hasan Ali, posted a picture with his wife Samiya Arzoo and daughter on the morning of February 14 on his Instagram account. In the caption, he expressed his appreciation for his wife, referring to her as his "support system."
Please feel free to share your Valentine's Day celebrations in the comments section below. We are excited to hear your unique stories! Thank you.