Showbiz
Unique Gift giving to Groom on Wedding by Mother in Law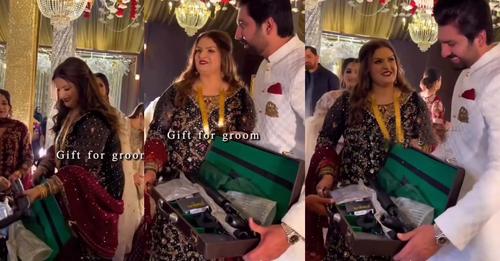 The Hobbies are changing the wedding trends also also changed a unique wedding gift by Mother in law to groom the weapon and she is giving with unique and proudly way see some unique vids of this gift.
On his wedding day, a groom received an AK-47 rifle from his mother-in-law in a video that has been circulating on the internet. The guests cheered and showered rose petals on the newlyweds. Pakistani journalist Adeel Ahsan shared the video with a caption that read, "Kalashnikov rifle as a wedding present." However, the exact location and date of the video remain unknown.
Many Pakistanis are fond of extravagant weddings and take pride in showcasing their wealth and culture. Social media has been abuzz with videos of unique wedding rituals in recent days. In a viral Instagram video, the bride's family can be seen gifting a gun to the groom during a Pakhtoon wedding photo session. The video was captioned "Gift for Groom," and the groom happily accepted the gift.