Showbiz
Tom Cruise leaves Malala Yousafzai starstruck in sweet encounter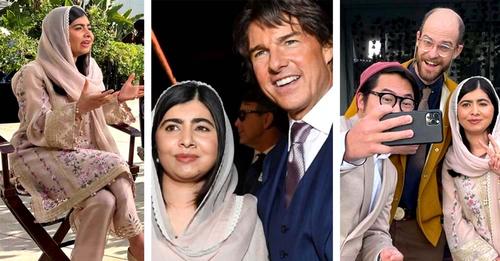 Malala Yousafzai is a well-known Pakistani activist with global recognition. Hailing from Swat, Pakistan, she stands out as one of the select few Pakistanis to have graduated from the prestigious Oxford University, achieving this feat entirely on scholarships. In 2021, Malala Yousafzai tied the knot with Asir Malik, an accomplished and gifted young man hailing from a Punjabi family in Pakistan. Malik is a LUMS graduate and occupies a high-ranking position at the Pakistan Cricket Board
Nobel laureate and executive producer of Joyland, Malala Yousafzai, made a stunning appearance at the 2023 Oscars luncheon on Monday, where she mingled with Hollywood's elite alongside the other finalists. Malala Yousafzai, a Pakistani activist, shared highlights of the event on her Instagram, including an exciting encounter with Top Gun star Tom Cruise.
The young Nobel laureate donned a traditional light pink embroidered ensemble from the collection of Pakistani designer Sana Muskatiya, complemented by a pair of ivory heels. Malala's attire is a testament to her representation of Pakistani culture and Eastern clothing, which she showcases wherever she goes in the world.
The young Nobel laureate, Malala Yousafzai, posted photos of the occasion on her official Instagram account. When asked about her encounter with the Top Gun star, she replied to a reporter saying, "It was surreal. I've watched him on screen, and now I'm seeing him in person." During the event, Yousafzai had the opportunity to meet a variety of accomplished Hollywood actors and filmmakers. The 95th Academy Awards ceremony is scheduled to take place on March 13th, 2023 in the United States.
If you're interested in viewing photos of the Pakistani activist, Malala Yousafzai, alongside Tom Cruise at the 2023 Oscars luncheon, please check out the below!
There is no doubt that Malala Yousafzai cares a lot for Pakistan and its poor people.
Additionally, we would like to know your opinion on Malala Yousafzai as an activist and whether you follow her on Instagram. Please share your valuable feedback with us. Thank you!