Showbiz
Sanam Saeed and her first husband Farhan Hasan's endearing moments in pictures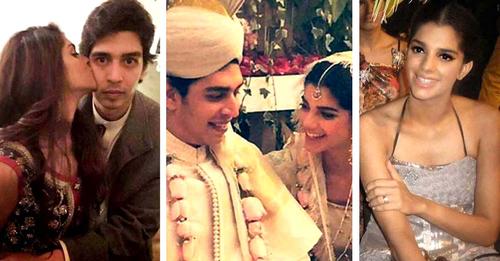 Sanam Saeed is a prominent figure in the Pakistani entertainment industry, known for her exceptional talent and ability to deliver quality performances. Her mere association with a movie or drama is enough to generate significant buzz and anticipation among audiences. With her unique flair and versatility, Sanam Saeed has become a hallmark of excellence in Pakistani showbiz, elevating the standard of content in both television and film. Her name is synonymous with success, and her contribution to the entertainment industry is truly remarkable.
Sanam Saeed captivated the hearts of Urdu-speaking audiences across the globe, particularly in Pakistan, through her portrayal of Kashf in the Hum TV drama serial Zindagi Gulzar Hai. The character's struggles and challenges resonated with many viewers, particularly those from less privileged backgrounds, and Sanam Saeed's performance brought her widespread acclaim and recognition. This iconic drama played a pivotal role in establishing Sanam Saeed's career and cementing her position as one of Pakistan's most sought-after actresses. Today, she remains dedicated to working on projects that carry a positive message and contribute to the betterment of society, as she continues to inspire and delight audiences with her talent and charisma.
It may come as a surprise to some that Sanam Saeed was previously married, but unfortunately, her first marriage ended in divorce. Sanam's former husband, Farhan Hassan, is not a part of the showbiz industry and works in a different profession. Following their marriage, Sanam moved from Pakistan to Dubai, where she took a hiatus from the entertainment industry for a brief period. While the details surrounding their separation are complex and multifaceted, we will explore them in a separate article on another occasion.
In today's article, we will be viewing photos of actress Sanam Saeed from her marriage to her her first husband, Farhan Hasan. Sanam Saeed and Farhan Hasan were school friends and their love story began from there. However, it was announced last night by Sanam Saeed on Fahad Mustafa's show, The Fourth Umpire, that she has officially entered into her second marriage with actor Mohib Mirza.
If you are interested in seeing pictures of the accomplished and successful Pakistani actress Sanam Saeed with her former romantic partner or ex-husband, check out the below.
This is a memorable photo of Sanam Saeed on her wedding with her ex-husband Farhan Hassan.
Looking at this picture, it seems that the actress was very much in love with her husband but had to leave due to some reasons.
Please feel free to share your thoughts with us in the comments section. Were you aware of Sanam Saeed's first marriage? If so, we would appreciate hearing your opinion. Thank you!