Showbiz
Sajal Aly sings beautiful songs for her late mother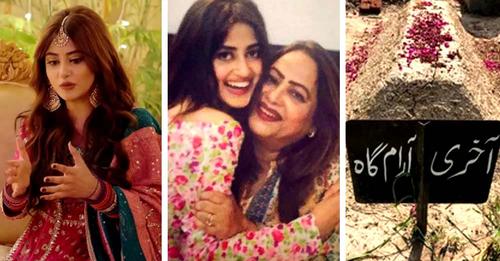 Sajal Aly and Saboor Aly share the most beautiful bond with their mother. It's even when she's not with them but even then these gorgeous girls are always seen remembering their mother and cherishing every memory and every moment they spent with her. From Interviews to candid chit-chats, they find every reason to talk about mother.
Recently in an interview with Rabia Mughni Sajal Aly told how she connects herself with her mother through old songs. She loves old music just because of her mother because she was used to sing those songs. Sajal even sang beautifully the favorite song of her mother mujhe tum nazar say gira to rahe Ho. Her voice is truly magical and we are falling in love with it.
Sajal Aly has achieved immense appreciation and recognition in this age. From Mehmoodabad Ki Malkain to Ishq E Laa and now Kuch Ankahi, she has always been perfect in every way. Sajal thinks that there's still alot to achieve in life. She considers herself blessed to have an opportunity where she can endeavor hard to change the mindset of society through her characters and acting.
Ravishing diva and our favorite actress never disappoint her fans whenever it comes to winning hearts with outstanding performances.
Here you can watch the full interview with Sajal Aly. Don't forget to watch it now.
Which drama of Sajal Aly is your favorite? Do write your feedback here in our comments section below. Thanks!