Showbiz
Saba Qamar's latest photos leaves everyone in awe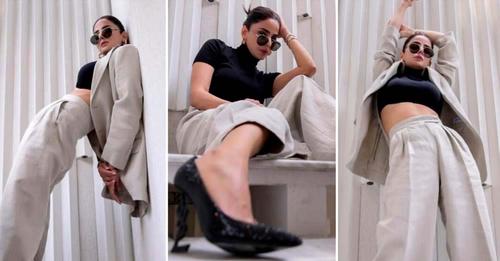 If a list of top actresses in Pakistan is made, Saba Qamar's name would be at the top. Not only is Saba an actress in Pakistani dramas, but she has also showcased her acting skills in Pakistani films, earning appreciation from audiences.
A few days ago, actress Saba Qamar won people's hearts with her unique portrayal in the ARY Digital drama series Sar-e-Rah. People often say that whatever drama Saba Qamar appears in, it reflects the real issues of our society.
On the other hand, although Saba Qamar is successful in her professional life, she has not found success in her personal life. Despite being thirty years old, Saba is still single and looking for a good man to marry. However, based on Saba's activities, it seems like she is not in any hurry to get married
Recently, pictures of Saba Qamar wearing Western clothes have gone viral on social media. These pictures showcase Saba Qamar making a fashion statement and striking unique poses. It's hard to put into words the admiration people have for this talented actress
If you're a fan of Pakistani drama and movie actress Saba Qamar, check out her latest photoshoot below!
Don't forget to share your thoughts on this talented actress if she happens to be your favorite. Thank you!