Showbiz
Mira Sethi dressing invites heavy public criticism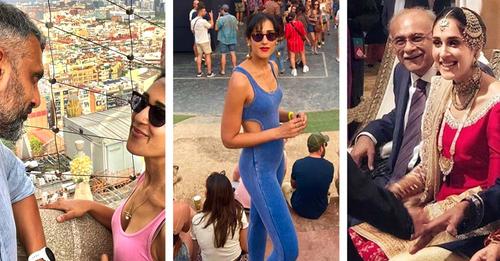 Mira Sethi is considered as one of the best models and drama actors in Pakistan. She is an independent actress, and because of this, she is often at the center of controversies. She is currently busy building her career. She is currently seen playing mostly supporting roles in TV dramas. And there is no doubt that she is busy working hard day and night and she wants to become the top actress in Pakistan.
35-year-old Pakistani actress and model Mira Sethi started her career very early. She was first seen in the year 2013 in the ARY Digital drama serial Silvatein playing the role of Natasha. And after that, she played the role of heroine in Pakistani films as well. On the other hand, if a brand contacts her, she is also seen doing modeling photoshoots with them.
Mira Sethi started her married life in the year 2019 by marrying her best friend Bilal Siddiqui. The marriage ceremony of both of them was held in America and only close relatives attended. One thing is that Mira's husband is not from showbiz and he runs his own business. And both of them first met while studying at the university. And from there their love started.
But in today's article, we will see that Pakistani actress Mira Sethi shared new pictures with her husband. Looking at the viral pictures, it can be guessed that Mira prefers to wear western clothes instead of eastern clothes. In anger, people started saying that Najam Sethi could not make her daughter veiled.
If you also want to see pictures of Pakistani actress Mira Sethi in bold clothes, then check out below.
Do you guys also feel that today's Pakistani actresses prefer to wear skimpy clothes to gain overnight fame so that they can become successful faster? If you also think so, let us know your opinion. Thanks!