Showbiz
Mariam Ansari Cute Pictures with her Husband Innocent Clicks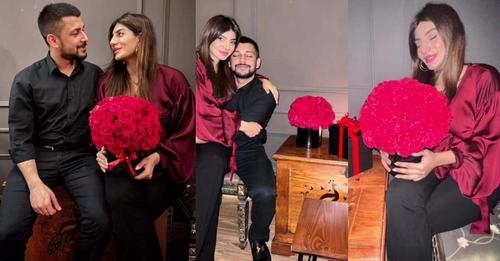 Mariam Ansari is a stunning and accomplished Pakistani actress, with an impressive portfolio of popular television shows to her name. She is happily married to her best friend, Owais Khan, who happens to be the son of former Pakistani wicketkeeper and captain, Moin Khan, and the younger brother of cricketer Azam Khan. The young and vibrant couple has garnered a devoted following of fans who eagerly await updates about their lives.
As an extremely pretty and talented actress, Mariam Ansari has made a mark in the Pakistani entertainment industry with her impressive work in various hit television serials. Her marriage to Owais Khan has only added to her charm, as the couple's chemistry and love for each other is apparent in their social media posts. Fans adore the couple and are always eager to know more about their personal and professional lives.
Mariam Ansari is a talented Pakistani actress who has made a name for herself in the entertainment industry. She is known for her beauty, acting skills, and charming personality. In addition to her professional achievements, Mariam Ansari is also happily married to her husband, and they often share adorable pictures on social media.
Mariam Ansari and her husband have been together for a long time, and their love for each other is evident in the pictures they share. They look like the perfect couple and are often seen enjoying each other's company in various settings.