Showbiz
MADIHA IMAM'S WEDDING PICTURES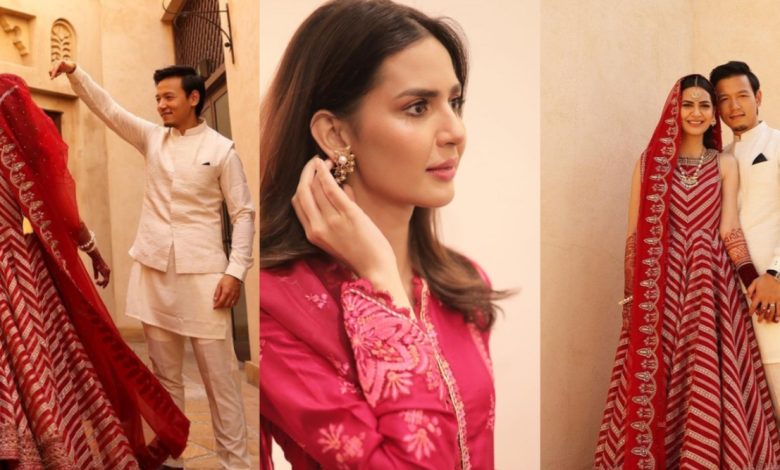 Madiha Imam is widely considered one of the best TV and film actresses in Pakistan. She has been appearing in TV dramas for many years and continues to win people's hearts with her excellent acting skills. There is no doubt that she has made her mark in the showbiz industry through hard work and dedication. Madiha began her career in showbiz by hosting a live show on a private TV channel.
It is mentioned that in the year 2023, Pakistani model and actress Madiha Imam turned 32 years old. She began her acting career in the year 2013, appearing in the HUM TV drama serial "Ishq Mein Teray" alongside Mehwish Hayat and Azfar Rehman. In addition to acting, she has also modeled for many well-known brands and done photoshoots.
One of the notable things about Madiha Imam is that she doesn't waste time after finishing shooting. She likes to dedicate her time to her family, which is why she's not often seen at showbiz parties. Despite living in the vibrant world of showbiz, Madiha has never been embroiled in any controversies to date, and she has never been seen dating anyone publicly.
In today's article, we learned that the stunning Pakistani actress Madiha Imam has also gotten married. She has chosen Moji Basar as her husband, and she shared photos of her wedding with him on her Instagram account. In the pictures, she can be seen in a red wedding dress posing with her husband during a photoshoot. Madiha wrote in the Instagram caption to keep her in our prayers, as her wedding took place on May 1, 2023.
If you'd like to see the wedding pictures of the young Pakistani actress Madiha Imam with her husband Moji Basar, you can check them out below!