Showbiz
Lt General Faiz Hameed's daughter gets married and these pictures are all that you need to see!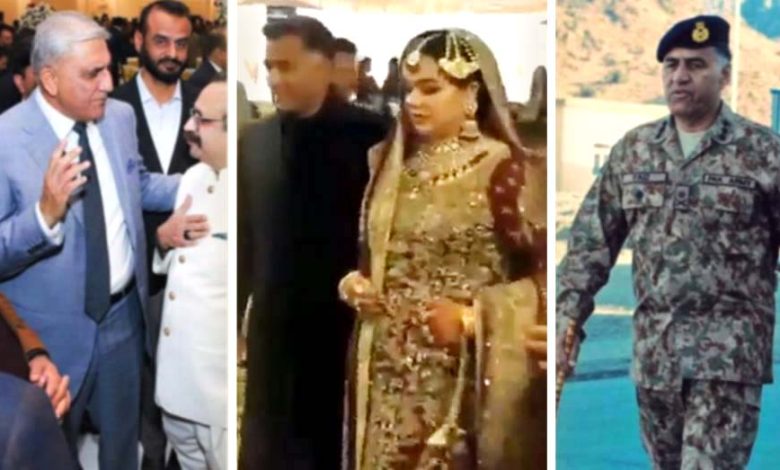 If the month of December is called the month of marriage, then it will not be wrong at all. Most weddings are organized in this month all over the world including Pakistan. Be it Pakistani celebrities or famous politicians or family weddings, everyone waits for this month throughout the year and fixes their wedding date in it.
Yes, in today's article, we are talking about Lieutenant General Faiz Hameed. Lt. Gen. Faiz Hameed is a distinguished Pakistani retired three-star army general who served as ISI Chief and Corps Commander Bahawalpur. The wedding ceremony of the daughter of General (R) Faiz Hameed was held in Rawalpindi today, which was attended by many prominent political and military figures.
One of the good things about this wedding was that the former Chief of the Pakistan Army General (R) Qamar Bajwa also attended the wedding ceremony of Faiz Hameed's daughter. A video of General Faiz Hameed is going viral on social media in which he is taking his daughter to the wedding venue. Click on the link below to watch the amazing video of father and daughter bonding.
General Faiz Hameed's daughter was dressed in a beautiful maroon dress for her wedding, while Faiz himself was seen wearing a black dress. Apart from this, the important leader of PTI Fawad Chaudhry also participated in this event. On the other hand, former Chief Justice Saqib Nisar was also seen attending this wedding.
If you also want to see the wedding photos of Lieutenant General Faiz Hameed's daughter, then check out the below!
Don't forget to congratulate General Faiz Hameed's daughter on her marriage in the comments below. We pray to Allah Almighty to make this couple's new journey easier. Ameen!