Showbiz
Kinza Hashmi Stunningly Celebrate her Birthday with some Friends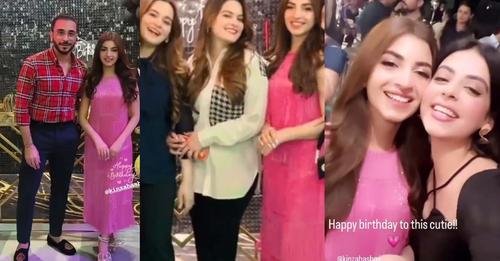 Kinza Hashmi is a highly talented actress who has gained a significant following among Pakistani TV drama viewers. Throughout her career, she has portrayed a diverse range of characters, showcasing her versatility and skill as an actress. While she may not be among the top actresses in Pakistan, her popularity is undeniable, and she has a loyal fan base that supports her.
Despite the common belief that actresses cannot be friends, the Pakistani drama industry is known for its close-knit community, where people often support and celebrate each other. Kinza Hashmi is part of a group of friends that includes other notable actresses such as Saboor Aly, Aiman Khan, Minal Khan, and Sadaf Kanwal. They are frequently seen hanging out together and enjoying various occasions. Recently, Kinza celebrated her birthday in style, and her party was attended by several other popular stars from the industry, making it a star-studded affair.
Kinza Hashmi is a Pakistani actress who has made a name for herself in the entertainment industry with her stunning performances in dramas like "Ishq Tamasha" and "Gul-o-Gulzar." She recently celebrated her birthday in style with some close friends, and the pictures from the celebration are making rounds on social media.
The pictures shared by Kinza show her and her friends having a great time together, with lots of laughter, smiles, and hugs. Kinza looks stunning in a beautiful red dress, and her friends also look chic and stylish in their outfits. The birthday celebration was held in a beautiful outdoor setting, with a picturesque backdrop of greenery and flowers adding to the festive ambiance.
The pictures of Kinza's birthday celebration have received an overwhelmingly positive response from her fans, who have praised her for being such a down-to-earth and relatable celebrity. Her fans appreciate that she takes the time to celebrate her special moments with her loved ones and that she shares those moments with her fans. Kinza's birthday celebration is a reminder that even in the midst of a busy career and a hectic schedule, it is important to take time out to enjoy the company of friends and famil.