Showbiz
Iffat Omar stuns crowd with traditional 'Punjabi Tappa' at Aurat March 2023 in Lahore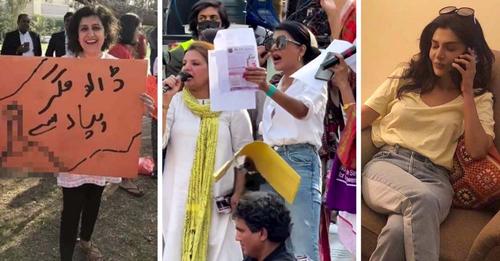 Iffat Omar is one of the best actresses, models, and hosts in Pakistan, she has been ruling the TV screen for many years due to her amazing acting. And there is no doubt about it, she has tried her luck on every platform and has proven her talent. And that is why she is considered in the list of senior actors of Pakistan.
Iffat Omar is often criticized on social media, she supports Pakistan Muslim League-Nawaz leader Mian Nawaz Sharif and is seen criticizing Pakistan Tehreek-e-Insaaf leader Imran Khan. Well, in our country, every individual has freedom of opinion and she can support whoever she wants, but often Iffat's choice of words is wrong, and that's why people criticize her a lot.
One of the unique aspects of Iffat Omar is her outspoken support for women and the Aurat March. She believes that men and women should be equal under the law in our country, and this is an issue on which there can be no disagreement. Our creator has created men and women as equals, and this fundamental principle should guide our actions and beliefs.
Unfortunately, some people criticize the Aurat March simply because women participate in it and because the messages on their banners are deemed by some to be vulgar or offensive.
In a recent article, it has been reported that Pakistani actress and model Iffat Omar participated in the Aurat March 2023 and sang 'Punjabi Tappa', which has gone viral on social media. The video shows the women who joined the march singing along with Iffat Omar and expressing their admiration for her.
If you are interested in watching the video of Iffat Omar singing 'Punjabi Tappa' at the Aurat March, you can click on the link provided below.
Do you also support the aurat's march in Pakistan and support the women who bring their posters to this march with an open heart? So don't forget to let us know your thoughts. Thanks!