Showbiz
Husband of Dr. Seemi Jamali Dismisses News of Her Death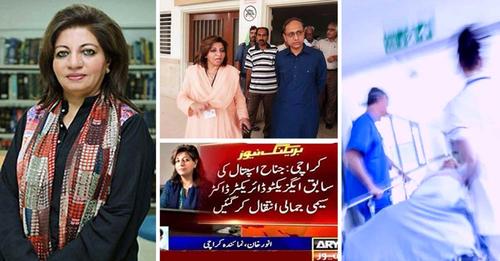 Dr. A.R. Jamali, the husband of Seemi Jamali, former executive director of the Jinnah Postgraduate Medical Centre (JPMC), has strongly denied the news claiming the demise of his wife. According to ARY News, Dr. Jamali has refuted these reports, putting an end to the speculations surrounding Seemi Jamali's alleged death.
Dr. A.R. Jamali, in a statement, clarified that his wife's health had improved compared to the previous day, dismissing any rumors of her passing. He reassured everyone that Seemi Jamali's condition was stable & urged the public not to believe false reports about her demise.
Highlighting the deteriorating health of Seemi Jamali, Dr. A.R. Jamali mentioned that she had been transferred to a private hospital in Karachi due to her ongoing battle with lung disease. He humbly requested the nation to join him in praying for his wife's speedy recovery.
Jamali's medical record includes a diagnosis of colon cancer in November 2020. Her meaningful contributions during the COVID-19 pandemic led to global acclaim, as she was honored by the World Health Organization (WHO) as a "global hero" in 2021. She received multiple awards, including the prestigious Tamgha e Imtiaz Award in 2019.
Before concluding, we pray to Allah to grant Dr. Seemi Jamali a quick recovery and alleviate her family from this challenging time and distress. Ameen.