Showbiz
Humayun Saeed Share some Golden Days Pictures with his Wife on Anniversary Day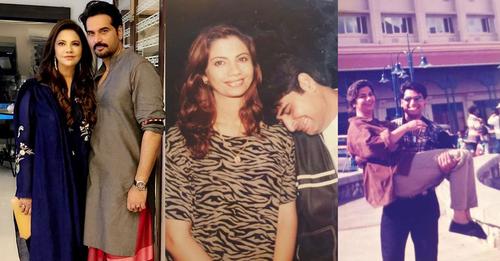 Humayun Saeed, one of the most beloved and talented actors in the Pakistani entertainment industry, recently celebrated a special milestone in his personal life. On the occasion of his anniversary, Humayun took to social media to share a series of golden days pictures with his wife, marking a beautiful journey of love, companionship, and cherished memories.
Humayun Saeed, known for his charismatic performances and versatile acting skills, has captured the hearts of audiences throughout his illustrious career. With numerous hit dramas and blockbuster films to his credit, he has become a household name and a source of inspiration for aspiring actors. Despite his hectic schedule and demanding professional commitments, Humayun has always valued the importance of his personal life and maintains a strong bond with his wife.
On their anniversary day, Humayun Saeed delighted his fans by sharing glimpses of his early days with his wife. The series of golden days pictures transported viewers back in time, revealing the couple's journey from their early days of courtship to the present. Each image encapsulated the joy, love, and shared experiences that have formed the foundation of their relationship.
The pictures showcased Humayun and his wife, whose name he prefers to keep private, engaged in various activities, from romantic moments to lighthearted fun. The genuine smiles and affectionate gestures captured in the images resonated with their fans, showcasing the bond of love and understanding they share. The couple's journey, filled with laughter, support, and unwavering commitment, serves as an inspiration to many.
Humayun Saeed's decision to share these personal moments on his anniversary day reflects his gratitude for the love and support he has received from his fans throughout his career. It also serves as a gesture of appreciation towards his wife, acknowledging the role she has played in his life and career. Fans and well-wishers flooded the comments section with heartfelt messages, showering the couple with blessings and congratulations on their special day.