Showbiz
Hasan Ali at Shadab Khan Wedding with his wife Samiya Arzoo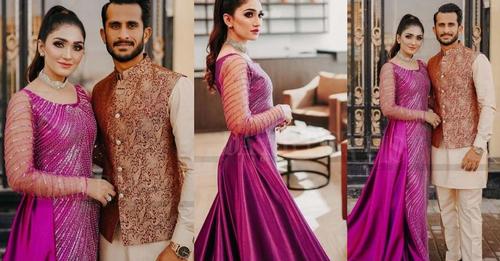 Hasan Ali the best friend of Shadab Khan spends a lot of time together and playing as the best team player but now Hasan Ali not performing well again and he is out of the team but Shadab still Is in performance may be Next Captain will be Shadab, on Walima Event of Shadab Hasan Ali reached with his wife Samiya Arzoo in unique and expensive dressing.
Hasan Ali is a well-known Pakistani cricketer who recently made headlines for his attendance at the wedding of fellow cricketer Shadab Khan. Hasan Ali arrived at the event with his wife, Samiya Arzoo, by his side, and the couple made a stylish and charming appearance.
Hasan Ali has been a prominent figure in Pakistani cricket for several years, and is known for his impressive pace and swing bowling. He has represented Pakistan in several international matches, and has been a key player in many of the team's victories.
Samiya Arzoo, who is a flight engineer by profession, tied the knot with Hasan Ali in August 2020. The couple's wedding was a private affair, attended only by close family and friends. Since then, the couple has been making public appearances together and their love for each other is evident.
At the Shadab Khan wedding, Hasan Ali and Samiya Arzoo made a stunning couple, and their appearance was widely appreciated by fans and the media. Samiya Arzoo looked beautiful in a traditional Pakistani outfit, while Hasan Ali was dressed in a stylish suit. The couple was all smiles as they posed for photographs and mingled with the guests.