Showbiz
Hania Amir Most Kosher Viral Snaps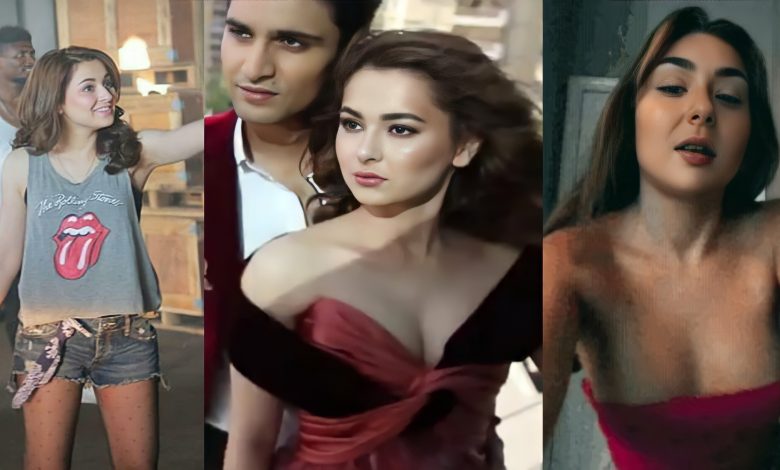 Hania belongs to Punjab but travels to Sindh (Karachi) a lot because of her work. She has one sister who is five years younger than her. The actress's father hails from Murree; she looks a lot like her father. Previously, rumors had it that Hania Amir is dating singer Asim Azhar. However, the friendship (or relationship) ended, and now Hania Amir is single.
Hania Aamir has ventured into many dramas ever since she started her career. Her first lead role was in the drama Titli; she played the character of a very rude and selfish girl. From there, her career soared, and she took up many varied roles – from a damsel in distress to a strong chirpy girl, we've seen Hania Amir do it all.
Hania Aamir who is famous for her beauty in pakistan showbiz industry walks on the tongue of every person of her beauty but she is often criticized for her dress. Hania Aamir and Alia Bhatt are both very beautiful but Hania Aamir surprised everyone by wearing clothes like Alia Bhatt in the last few days. People also criticized her choice a lot but some people say that she is more beautiful than Alia Bhatt.
Popular actress Hania Aamir is busy promoting her soon-to-be-released film 'Parde Mein Rahne Do', during which she adopted a unique outfit and style but people accused her of copying Alia Bhatt.
Hania Aamir, along with fellow actor Ali Rehman, also performed the film's song "Pela Ring" on a truck on March 13 in Karachi, the capital of Sindh province, during which she was seen in a white dress.
However, people claimed on social media that the color and design of the actress' outfit was similar to Alia Bhatt's outfit in the recently released Bollywood film 'Gangu Bai Kathiawari'.
Many people commented on her video and not only described Hania Aamir's dress and her design as Alia Bhatt-like dress.
People even accused the actress of copying the style of an Indian actress. Some people commented on her post that they remembered 'Gangu Bai Kathiawari' when they saw Hania Aamir.
Some people called him 'Alia Bhatt of Pakistani' while some people asked him why he copied the style of 'Gangu Bai'.
Most people consider Hania Aamir's style and dress as a copy of Alia Bhatt's style in 'Gangu Bai Kathiawari'.
People also tweeted in the style of Hania Aamir and wrote that the actress is promoting her film in the style of an Indian actress.