Showbiz
Hamza Wife Naimal Khawar Adorable Snaps with her Parents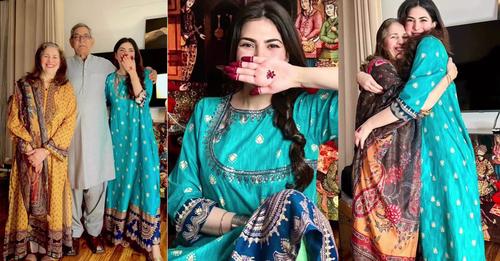 Naimal Khawar is one of the most popular actresses in the Pakistani entertainment industry. Known for her stunning looks and exceptional acting skills, Naimal has won the hearts of millions of fans across the globe. Recently, the actress took to Instagram to share some adorable snaps with her parents, and fans couldn't stop gushing over them.
In the snaps, Naimal can be seen posing with her parents, enjoying quality time together. The pictures are filled with love and warmth, and it's evident that Naimal shares a strong bond with her parents. The actress captioned the pictures with a sweet message, expressing her gratitude for her parents and thanking them for their unconditional love and support.
Naimal's parents are known for their humble and kind nature. They have always been supportive of Naimal's career and have encouraged her to pursue her dreams. Naimal, in turn, is grateful for their love and guidance and considers them her biggest role models.
Apart from being a talented actress, Naimal is also a loving daughter and a devoted family person. She often shares pictures with her parents and family on social media, giving fans a glimpse into her personal life. Fans love to see Naimal's softer side, and the pictures she shared with her parents have only made them love her even more.
Naimal Khawar is a true inspiration to her fans, both on and off-screen. Her dedication, hard work, and love for her family have made her one of the most beloved actresses in the industry. We wish Naimal and her family all the love and happiness in the world, and we can't wait to see more of their adorable snaps on social media.