Showbiz
Gorgeous Photos Ayeza Khan With Jethani Sidra Zahid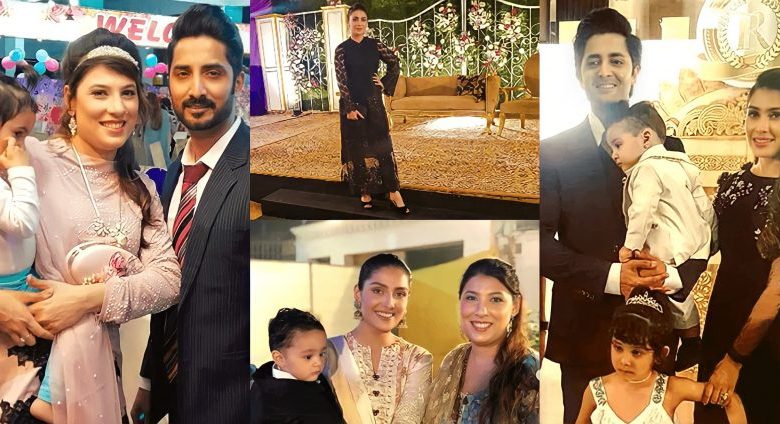 Ayeza Khan is most famous showbiz star in Pakistan filmy circut. She is one of the most popular actress more than 10 million on Instagram. She joined her family members at family marrige function where she met her sister in law and brother in law both famlies took photos and they looked really happy.
Ayeza Khan, a talented actress of Pakistan showbiz industry, has released an emotional message on social media for her daughter Hurreen and son Ryan Taimoor.
Geo Entertainment's most popular drama serial 'Mehr Posh' 'Mehro' posted a photo with her two children on the photo and video sharing app Instagram in which the actress is seen playing with Hureen and Ryan.
Ayeza Khan also wrote a love message for her two children in the caption of her post, she wrote, 'It is impossible for me to describe how much I love my two little angels and their better future. How ready I am for that. '
Explaining the secret of her strength, the actress wrote, "My two children are my strength and because of them I remain strong even in every difficult hour and face every battle."
"My first priority is my children and I have never given priority to anyone else, they are my family, the beautiful love of my life," he wrote.
Model Mehreen Syed and actress Momal Sheikh commented on the picture of Aiza Khan and her children and wrote, "Mashaallah."
Mehreen Syed and Momal Sheikh also added heartfelt emojis in their comments and expressed their love for Aiza Khan's family.
Ayeza Khan shared this post on her Instagram account 15 hours ago which has been liked by more than 153,000 users so far while good wishes are also being expressed for her by her fans.
It should be noted that Ayeza Khan and Danish Teymour have been married for 6 years. This beautiful couple tied the knot on August 8, 2014.