Showbiz
Ghar ka jharo pocha: Nida Yasir's unfiltered cleaning photos inspire fans to embrace natural beauty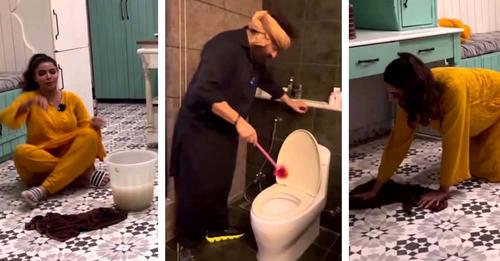 Nida Yasir is widely regarded as a prominent figure in the realm of Pakistani television dramas and morning show hosting, earning the title of a "queen". Her ability to engage in a variety of topics has been acknowledged, as she possesses a vast repertoire of conversation topics. Nida has been an active member of the Pakistani entertainment industry for nearly 15 years.
Nida Yasir began her marital journey with actor and director Yasir Nawaz. Prior to their marriage, both Nida and Yasir were deeply involved in the entertainment industry, and it was on a set that Yasir developed an affection for Nida. After getting to know each other and establishing a strong bond, the two of them decided to tie the knot right away.
In recent days, a video clip of Nida Yasir has been circulating widely on social media. The clip features her appearance on a new program hosted by Shoaib Akhtar, former fast bowler of the Pakistan cricket team. During the show, Shoaib asked Nida which year Pakistan won the 1992 World Cup, and Nida innocently thought and said in 2006. As a result, the clip has generated a significant amount of memes and humorous content on social media.
Today's article features Nida Yasir and her husband Yasir Nawaz as they take on a house cleaning challenge on their YouTube channel. The couple is committed to maintaining and organizing their home, and they personally take care of all the cleaning themselves, despite their busy schedules. People were mesmerized by Nida's natural beauty, even as she worked up a sweat while cleaning the house.
If you're interested in viewing captivating photos of Pakistan's renowned morning show host Nida Yasir and her husband engaging in house cleaning, be sure to check them out below!
Nida Yasir's immense stardom notwithstanding, she displays a remarkably unpretentious character.
We would love to hear from our readers about their personal experiences with house cleaning, and any interesting stories they may have. Please do not hesitate to share them with us. Thank you!