Showbiz
Fatima Effendi Celebrate her Son First Roza with Family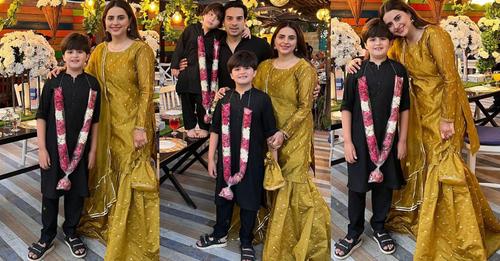 The holy month of Ramadan is a time for reflection, prayer, and family gatherings. For actress Fatima Effendi, it was an extra special time as she celebrated her son's first Roza with family. The star shared pictures of the happy occasion on her social media, showcasing the joy and happiness that filled the air.
In the pictures, Fatima Effendi's son can be seen wearing a traditional white kurta and cap, with a big smile on his face. The family gathered around to support him as he completed his first Roza, with prayers and good wishes filling the air. Fatima Effendi and her husband, actor Kanwar Arsalan, were beaming with pride as they celebrated their son's milestone.
The occasion was also a time for family togetherness, as loved ones came together to break the fast and enjoy a meal together. The family prepared a delicious spread of traditional Pakistani dishes, including biryani, samosas, and fruit chaat. The table was decorated with colorful tablecloths and dishes, adding to the festive atmosphere.
Fans of Fatima Effendi were delighted to see the family celebrating together, with many commenting on how beautiful the pictures were. The star also shared a heartfelt message about the importance of family and the blessings of Ramadan.
"Ramadan is a time for family, reflection, and gratitude," she wrote. "We are so blessed to have each other and to be able to celebrate this holy month together. We are grateful for our son's health and for the love and support of our family and friends. May Allah bless us all with His mercy and forgiveness this Ramadan."