Showbiz
Ayesha Omar's trendy lehenga takes the internet by storm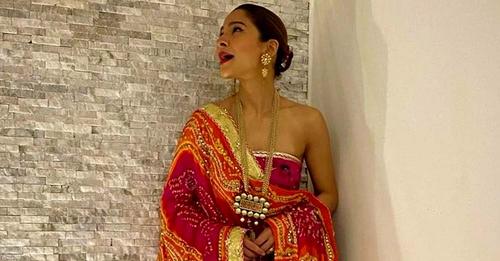 It is the history of the Pakistani showbiz industry that the photo shoot in which Ayesha Omar is seen may not be successful in marketing but it is definitely successful on social media. Yes, there is no photo shoot of Ayesha Omar in which she does not look bold.
Despite reaching the age of 41, Ayesha Omar is still unmarried and she is living according to her own rules. She doesn't talk about her marriage in any of her interviews, but she sure likes to comment on other people's marriages. It seems that Ayesha Omar wants to become the Rekha of the Pakistani showbiz industry.
The news is also circulating on social media that Ayesha Omar may be seen on a private TV channel doing Ramadan transmission in 2023. Previously, she has also performed her duties as a host during Ramadan on many Pakistani private TV channels. Isn't it an open contradiction to have Ayesha Omar doing Ramadan transmission?
But in today's article, we will see Ayesha Omar attending a friend's or family's wedding, once again the pictures of the actress wearing her traditional clothes are becoming the center of criticism on social media. Yes, Ayesha can be seen wearing a bold lehenga choli while attending a wedding. There is no sin in wearing a lehenga choli, but exposing too much body in it is bad.
If you also want to see pictures of Ayesha Omar attending her close friend's wedding, then check out below!
Do you like Ayesha Omar as an actress or as a model or don't like her? Don't forget to let us know your thoughts. Thanks!