Showbiz
Anum Goher and Goher Mumtaz finally reveal their baby boy's name and adorable face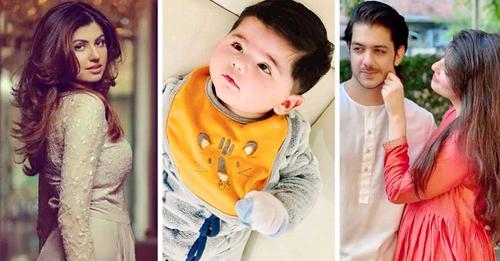 Anum Goher and Goher Mumtaz were a well-known celebrity couple in the showbiz industry. They had a strong bond and shared a beautiful relationship. Goher Mumtaz was a renowned Pakistani singer, songwriter, actor, music composer, model, and guitarist, while his partner, Anum Goher, was a popular Pakistani model and actor.
Followers of Anum Goher and Goher Mumtaz may be aware that the celebrity couple prefers to keep their personal life away from the limelight. However, according to a recent post, Anum Goher announced that she had given birth to a beautiful son seven months prior. She made this announcement after keeping the news private for several months.
According to Anum's post, Anum Goher announced the news of her motherhood through a heartfelt and lengthy post on her official Instagram account. She shared a photo of her newborn son and revealed his name as Muhammad Suleiman Gauhar, along with his birth date, which was 12.08.22. Anum also expressed her happiness on the occasion of her baby boy's 7-month milestone and mentioned that he was born just one day before her birthday, making him the best gift she could have asked for.
Anum Goher reportedly shared the news of her motherhood on her official Instagram account, along with a message addressed to her friends and well-wishers. She mentioned her desire to keep her personal life private and requested everyone to respect their privacy. Anum also shared an interesting detail about her son, Muhammad Suleiman Gauhar, said that Ps: Mr. Sulaiman Gauhar is another Leo after his parents.
If you guys want to see pictures of Anum Goher and singer Goher Mumtaz's newborn baby boy, then check out below!
Please don't forget to say 'MASHA-ALLAH' after seeing baby's picture.
Surely the pair of Anum and Goher is no less than a prince and princess.
A long Instagram post written by Anum in which she revealed the birth of her son.
If you would like to extend your warm wishes to Anum Goher and Goher Mumtaz on their new parenthood journey, you may consider leaving a message of congratulations on their official social media accounts. We hope that their family is blessed with good health and happiness, and wish them all the best for their future. Thank you!