Showbiz
Anant Ambani's Lavish Birthday Celebration in Dubai with Atif Aslam's Live Performance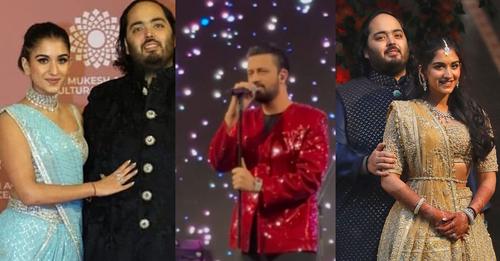 Anant Ambani, the son of Indian business tycoon Mukesh Ambani and Nita Ambani, recently celebrated his birthday in a grand style in Dubai. The lavish celebration was attended by family members, close friends, and celebrities, making it a star-studded affair. The highlight of the evening was a mesmerizing live performance by Pakistani singer Atif Aslam, who had the guests dancing and singing along to his hit songs.
The birthday bash was held at a luxurious hotel in Dubai and was decorated with stunning lights and floral arrangements. The guests were dressed in their finest attire, adding to the elegance and glamour of the event. Anant Ambani, who turned 27, was seen sporting a stylish suit and looked dapper as ever.
Atif Aslam's live performance was the main attraction of the night, and he did not disappoint. He sang his popular hits like "Tera Ban Jaunga", "Jeena Jeena", and "Pehli Dafa", leaving the guests in awe of his soulful voice. Anant Ambani was seen enjoying the performance, singing along with his friends and family.
The pictures and videos from the celebration went viral on social media, with fans expressing their admiration for the grandeur and extravagance of the event. Many also praised Atif Aslam's performance, calling it the highlight of the night.
Anant Ambani is the youngest son of Mukesh Ambani and Nita Ambani, and is known for his passion for sports and fitness. He is also involved in his family's businesses, including Reliance Jio and Reliance Retail.