Showbiz
Aamna Malick's new bold photos draw severe public criticism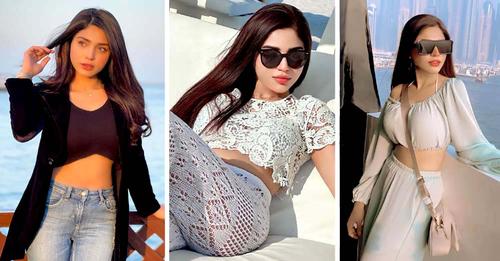 Aamna Malick is a rising star in the Pakistani entertainment industry, known for her stunning looks and exceptional acting skills. Her on-screen presence has captivated audiences nationwide, and she continues to attract a loyal following.
As of 2023, Aamna Malick is 26 years old and currently unmarried. She is actively seeking a suitable partner, and is hopeful of finding the right match soon. Once she does, she intends to tie the knot and start a new chapter in her life.
Aamna Malick made her debut in the entertainment industry with the A-Plus TV drama serial Dumpukht and has since gone on to establish herself as a versatile actress. She has delivered powerful performances in popular TV dramas such as Dar Si Jati Hai Sila, Mera Dil Mera Dushman, and Yeh Na Thi Hamari Qismat. Aamna is fully committed to her career and puts in a lot of hard work and dedication to hone her craft.
However, in a recent article, Aamna Malick faced criticism for sharing a picture on social media where she can be seen donning bold clothing while enjoying a seaside vacation. The viral photos feature her wearing an unconventional shirt and pajama combination, which has sparked controversy.
For those interested in viewing the pictures of Aamna Malick in her bold attire, they can be found below.
Do you guys also think that any Pakistani actress wears such clothes so that she can rise to fame overnight and get cast by a big director or producer? Don't forget to let us know your thoughts. Thanks!